Some of the best free Responsive WordPress themes to take your website to the next level. Most of these themes are as good as many premium themes out there. We hope that you will find this list useful your yourself and will finally switch to responsive web design.
Most of us have grown up in a world, where advertising is the driving engine of our economy. Billboards, TV commercials and storefront ads have become a mundane sighting, and it is hard to picture any town without these initially intrusive elements. The main purpose of these ads is to raise awareness regarding a product or service. The way that the public perceives your brand, will ultimately determine your sales numbers. Now the landscape has shifted to a virtual setting, where the tech savvy person is king. Just as before, if you are not able to relate a message of quality and dependability to your customer, all will be lost.
The web site has become the personal information calling card of the 21st century, and neglecting it could condemn your content to utter irrelevance. But what if you are a startup, a young and innovative freelancer that is just now attempting to breach the highly competitive yet rewarding world of the internet? Surely you lack the monetary funds necessary for the hiring of professional advertisers. What can you do, when both your time and your money is limited?
Well, the free market is designed to satisfy needs, are few are higher than this one, among the business community. Free or very cheap platforms such as WordPress have arisen, designed to facilitate the spreading of good products, and good ideas. In some circles, it would be hard to imagine productivity without WordPress, given that it bands together entrepreneurs from across the globe. When researching for a successful marketing campaign, you must consider a wide array of factors such as demographics, price ranges, quality, the political and spiritual persuasion of your target audience, and so on. The internet can relieve some of that pressure, because your audience often searches for you. Also, considering the global audience, campaigns of advertising will not be that aggressive.
This widespread appeal can also have its downside, given the extraordinary variety of devices that are used to browse through products and pages. Compatibility used to be a huge issue in the past. Sites made mainly for desktop or Laptop computers would struggle to appear on mobile smartphones or tablets. Thankfully, most of the current themes that are now available have a greater degree of versatility, regardless of the device or browser in question.
This quality if referred to as responsiveness is the hallmark of a quality online profile. It removes the possibility of latency, screen tearing, images and videos not loading are just some of the common problems. The goal is to reach a water-like state, where the content is able to fit and take the shape of any container. That being said, let us take a look at some of WordPress's best free responsive themes:
This is another post in free WordPress theme roundup series and you can find more collections like these by following this category. This collection will be constantly updated to include more awesome free WordPress themes and remove outdated themes that are no longer supported by developers. This theme collection is very similar to one we published a while ago but this one is entirely dedicated to responsive WordPress themes. Let us know which is your favorite theme on this collection and why?
Dazzling – Flat Design Business Them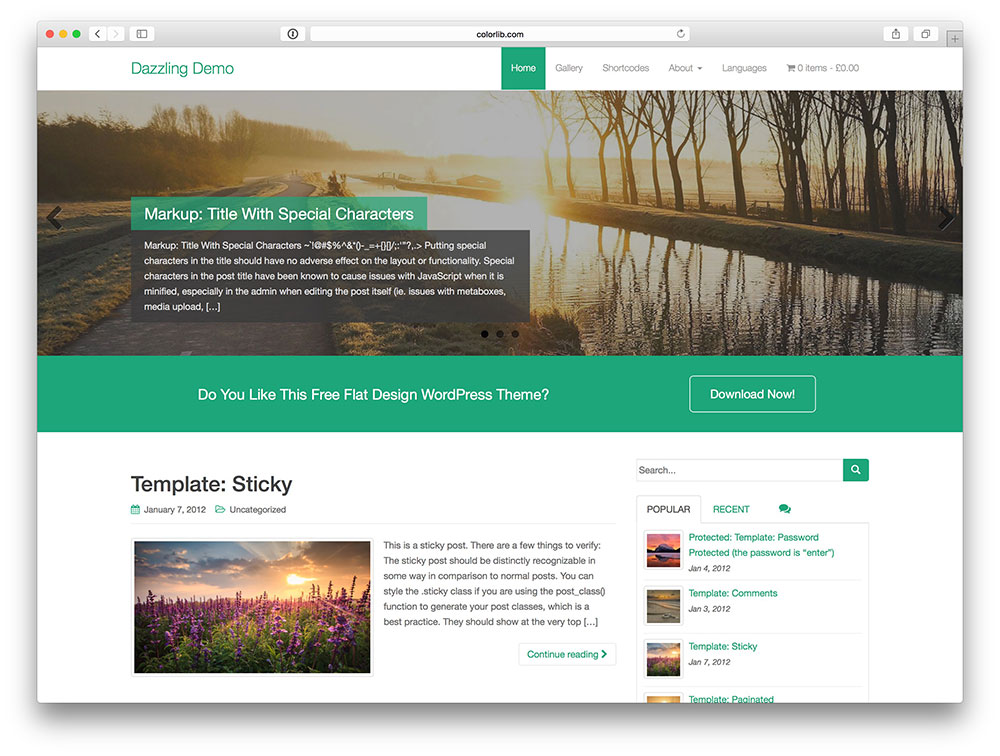 One would have a tough time distinguishing this theme from one of its very expensive counterparts. Free themes usually have a very bare-bones approach, and Dazzling can stand as the proud exception to that rule. The developers have included a full screen slider, and a series of awesome widgets, basically giving you the tools required to turn your online profile into something that is truly special.
As it is the case with all good WordPress themes, this one if SEO ready, and your customers will find it easy to access your site. This high degree of compatibility with any system, shatters the conventional barriers and effectively doubles or triples your viewer base. This theme is designed and developed by Colorlib and you can find more of their work here.
Travelify – Flat Design Travel Theme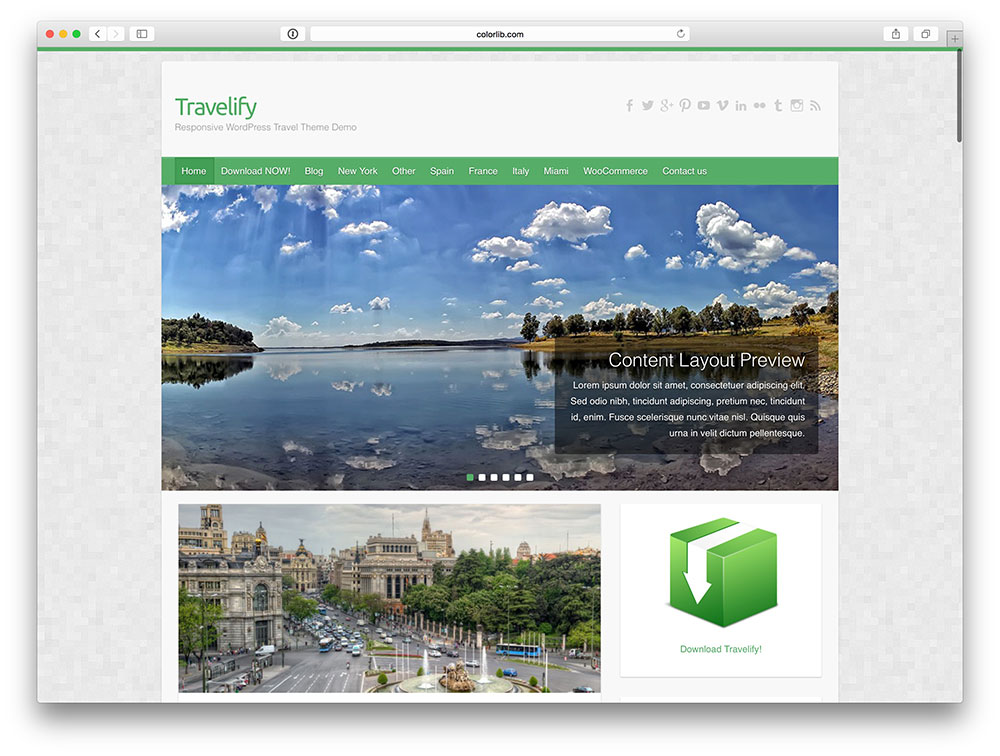 With several widget areas and an extraordinary color variety, Travelify is sure to pull your page out from the depths of anonymity, and skyrocket it to the heights of success. Users often experience problems when attempting to log into a specific site, due to the compatibility issues that emerge from using a mobile device such as a smartphone or tablets. Picture perfect and proud of it, Travelify is what you pick when you wish for a free product that can compete with even the most expensive alternatives.
It is extremely useful in a competitive business environment, but it can be installed in a multitude of pages. Creative and artist sites, personal blogs or online journals, and even agency portals can all benefit from its innovative coding. This is our the most popular WordPress theme with more than 250,000 downloads and counting. It is also among the highest rated free WordPress themes of all time. This is the best theme if you are looking for flexibility to build completely custom website.
Unite – WordPress Wedding Theme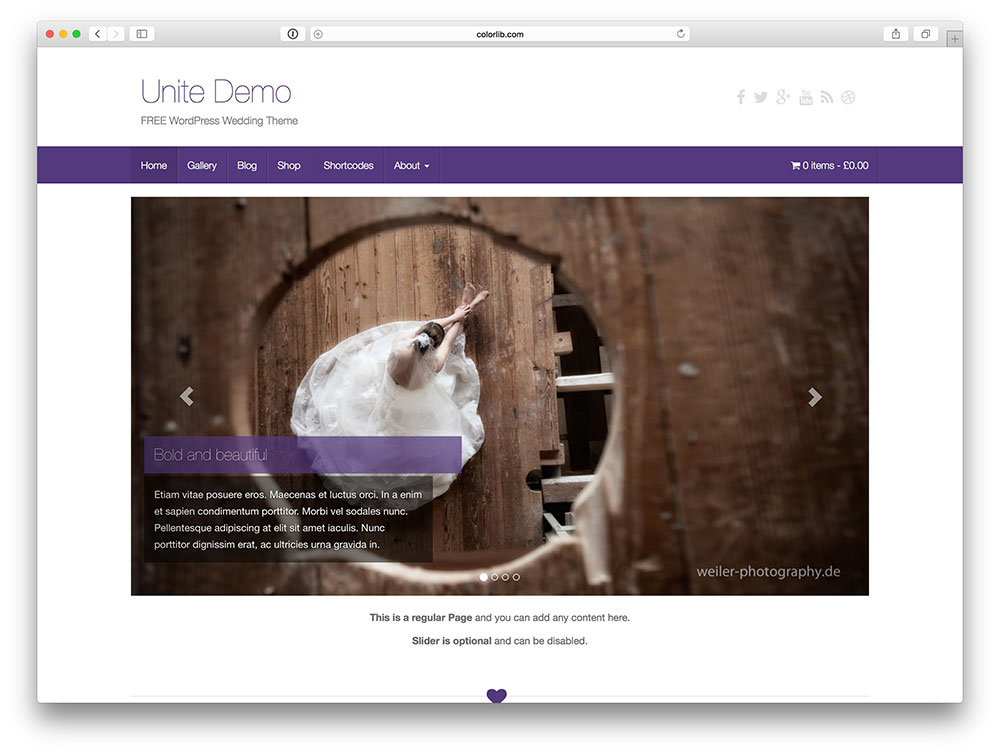 This is the one day, the one occasion when compromises are not allowed. Your wedding website must be top notch, so settle for no less than perfection. However, expensive does not always equate to high quality, and Unite is available for free. In order to convince yourself of the staggering quality, feel free to check out their demo. Built using the famous Bootstrap 3 infrastructure, this skin is sure to adapt to any device, allowing you quickly and efficiently browse through content.
It is retina ready, it has infinite scroll capabilities, and it incorporates a featured slider. These are just a few of the features that make this theme stand out, when compared to the competition.
Influence – Versatile Theme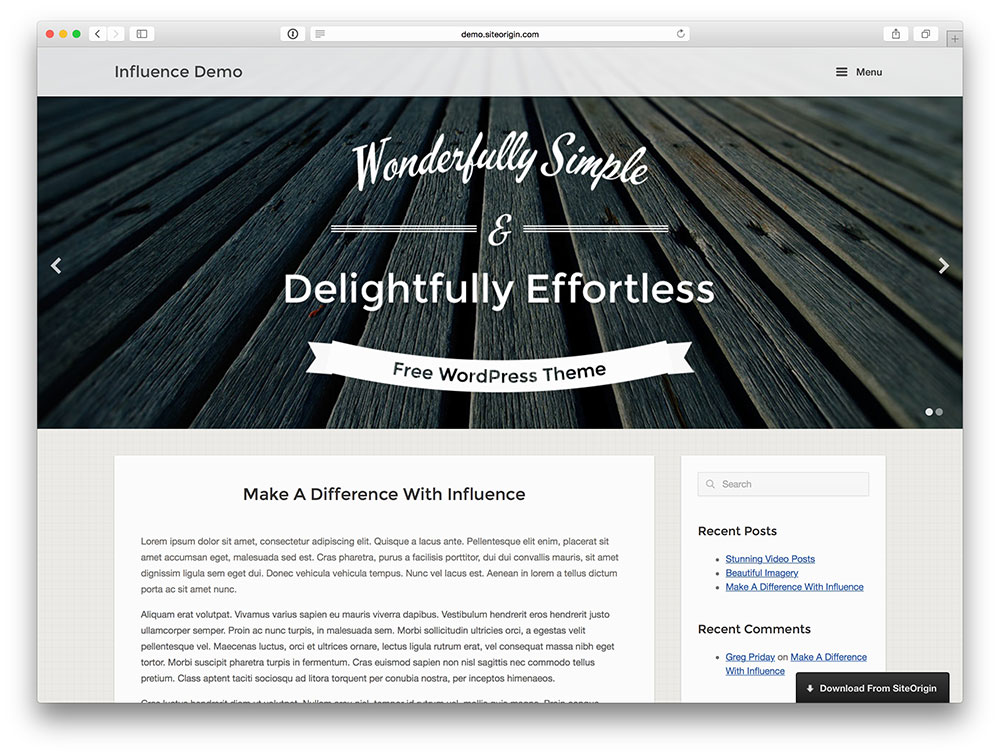 What this theme does best, if to give you a blank canvas for your ideas. Finally, you have a platform for your videos, blog posts or images. It has integrated the extremely useful plugin for page building, granting the customer the opportunity of building his own web page. If you have a small business, or you wish to display your CV or online portfolio, you can't choose a better WordPress skin.
The featured slider has support for images, videos and any other multimedia content. It is completely viable for mobile devices such as tablets and Smart Phones.
Inkness
When attempting to purchase any product or service, it is best to make an informed decision. With Inkness, a free demo is available. You face no financial risk whatsoever, the only things that are required, are a few moments of your valuable time. Polished to near perfection, it is fully compatible with all devices, and can display crisp, high resolution images. You may use it for your start up company, your online portfolio, and even for personal or entertainment sites.
You will not face compatibility issues when attempting to display on a high resolution screen. It works on all browsers, with the ability to showcase videos of any format. Versatile and dependable, Inkness is certainly deserving of your time.
FULLBY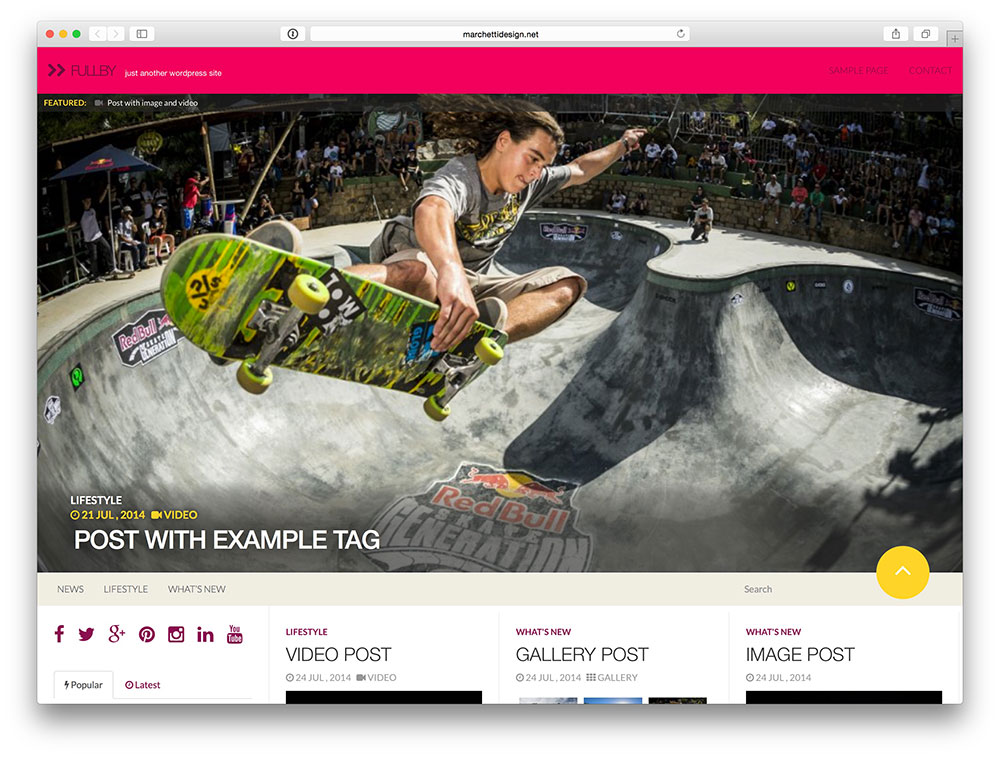 This theme seamlessly blends simplicity and functionality, and it manages to retain a large amount of user friendliness. Who says that you have to be overly complex in order to get the job done? Constructed using the reliable and stable Boostrap framework, Fullby includes many font options and color palettes. It is proud to have a responsive video slider that is capable of running on all devices, a horizontal widget bar, and the option to alter header heights.
Sometimes simplicity is all that is required. Fullby is the foundation, upon which a booming business can be built.
Arcade Basic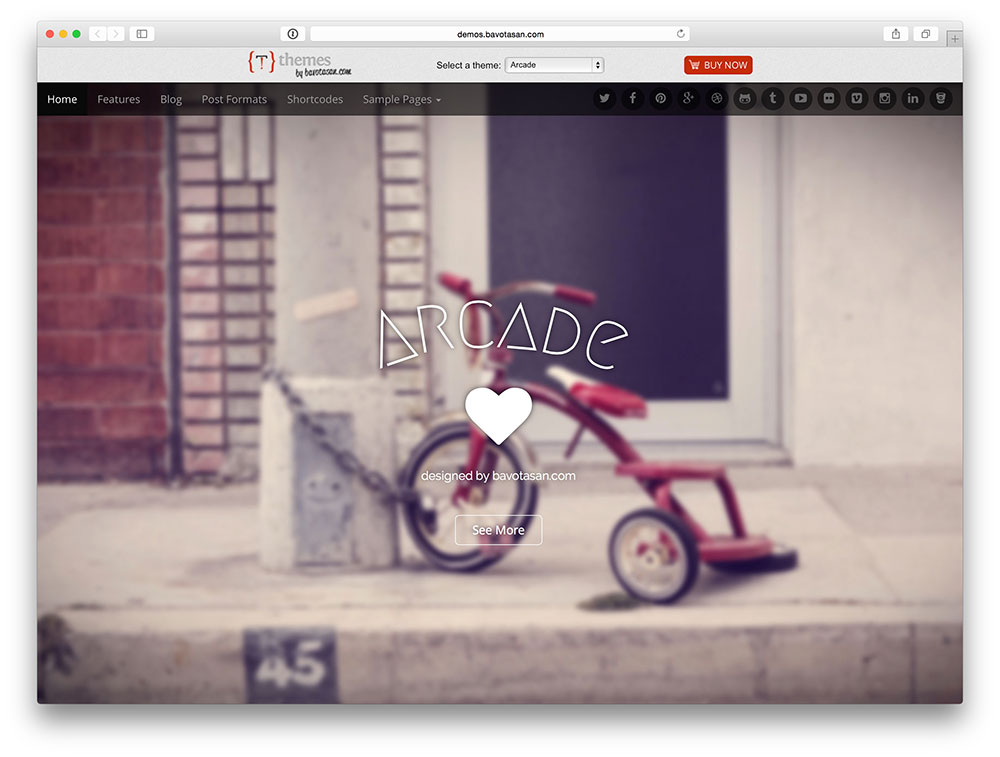 This is one of those rare cases, when a WordPress theme seamlessly blends together both form and function. Fully responsive and featuring HTML 5 programming this is a lightweight and user friendly theme that never ceases to amaze. If you decide to use the theme customizer, you are able to ad your own images, site width, header pictures, as well as select a distinct page layout.
Each of your galleries can have its own unique feel, thanks for the JetPack plugin. Take full advantage of the jQuery carousel, and the compatibility features with Bootstrap 3.
StanleyWP – Bootstrap Theme
If it were a person, this theme would be wearing a suit and tie. Clean cut, elegant, it displays both simplicity and complexity at the same time. It's Bootstrap framework allows for it to synchronize with any known device, properly displaying your content and doing it justice.
It includes a drag and drop page builder features, a theme option panel, three page templates, several portfolio post types, and a highly responsive coding. If you are not convinced of its quality, simply evaluate the theme on its own merits, by trying out their generous demo.
Flat Theme – Multipurpose Theme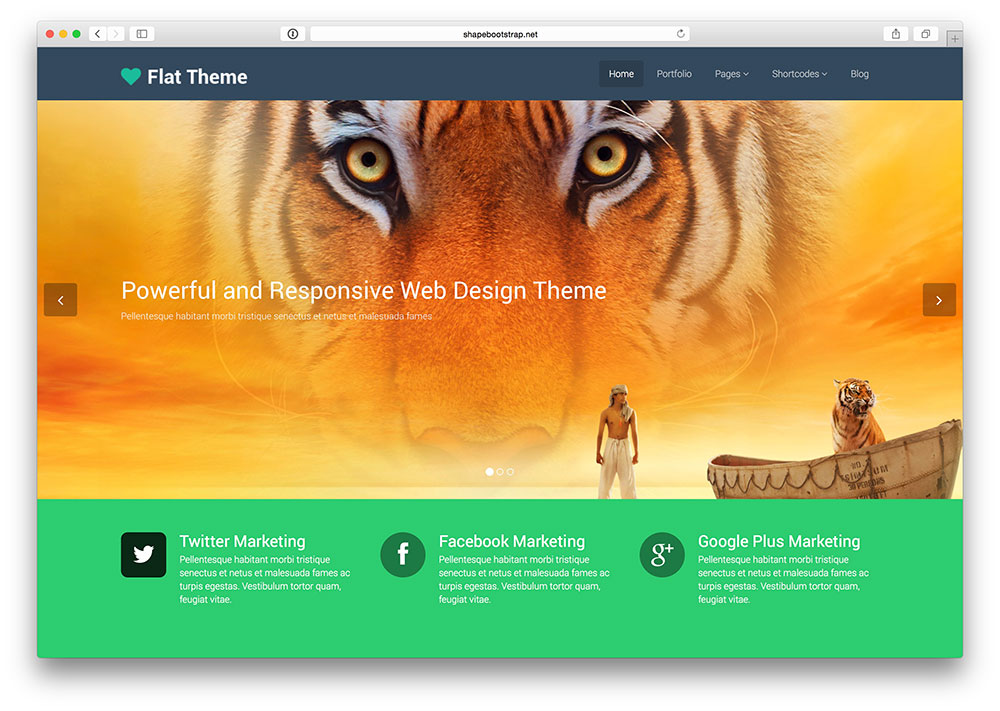 This theme is a chameleon in the best sense of the word. It is able to integrate and adapt to any situation, making it great for a wide variety of websites. It doesn't hurt that it is also fully responsive, and can be shown in a multitude of platforms. No screen tearing, resizing issues, or low resolution image loading is going to occur, if you that Flat installed.
This adaptability is its key feature, allowing for an unbelievable degree of user friendliness and flexibility, that is sure to impress even its harshest critic. Some of its features include a shortcode generator , Bootstrap 3.0 compatibility, a pricing table, portfolio options can be filtered, integration of both Google fonts and analytics.
Flat – WordPress blog theme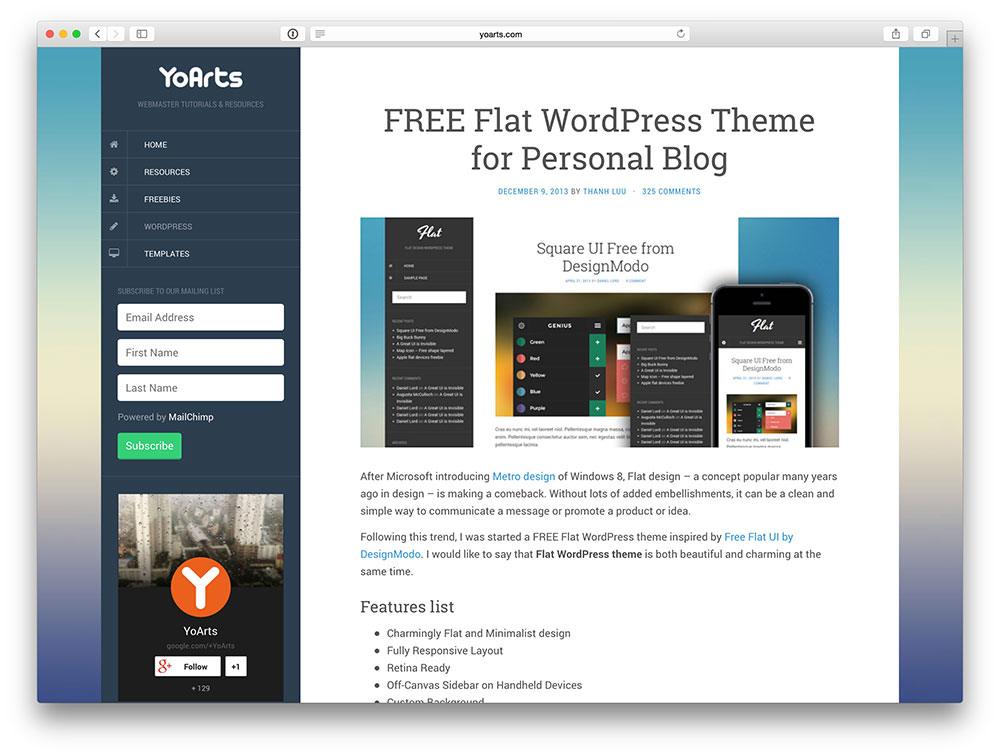 Sometimes it's good to take a break from trying to reinvent the wheel, and just arrange what you already have, into a cute and interesting format. Flat is a WordPress theme that especially caters towards blogs, and it was designed by the talented YoArts team. It proves that charm can overcome, as it is actually more popular than many of the premium themes that are available. It currently has a rating of 4.4 out of 5 stars, and is definitely worth a look.
It doesn't shift focus from your content, while still making it a priority to provide a stable infrastructure for your ideas.
Ward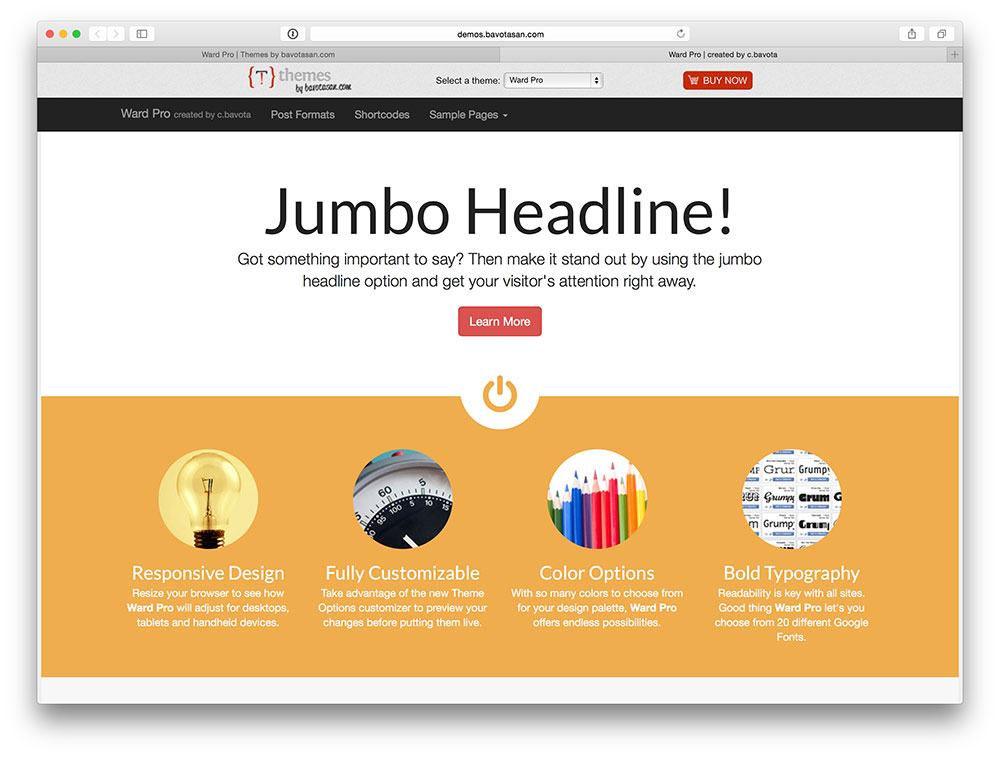 This theme takes its inspiration from the Gridiculous boilerplate, and it is designed to be fully responsive featuring an HTML 5 – ready programming. This theme can be altered, personalized and customized in any way you wish, the only limit here is your imagination.
The theme option customizer can modify your page layout, background image, and site width. There are also multiple post formats, including: Status, Image, Video, Audio, Aside, Gallery, Link and quote. If you choose to integrate the JetPat add-on, you are able to display a jQuery carousel and your entire gallery range.
 Customizr
This is definitely one of the most popular themes on our list, featuring a total of 4.8 out of 5 stars, in addition to over 721,380 downloads. Quantity is rarely an indicator of quality, but in this case we can make an exception. Currently at its 3.2.3 version, it is definitely worth a look. Its misspelled name is quite indicative of its strongest feature, it bombards you with customization options.
This is basically the digital version of a wet lump of clay, and you get to shape and mold its future. Be it good or bad, the final result will be yours. It proudly boasts 17 different skin colors, social profiles, logo upload, multiple layout options, sliders and many more innovative features.
Meris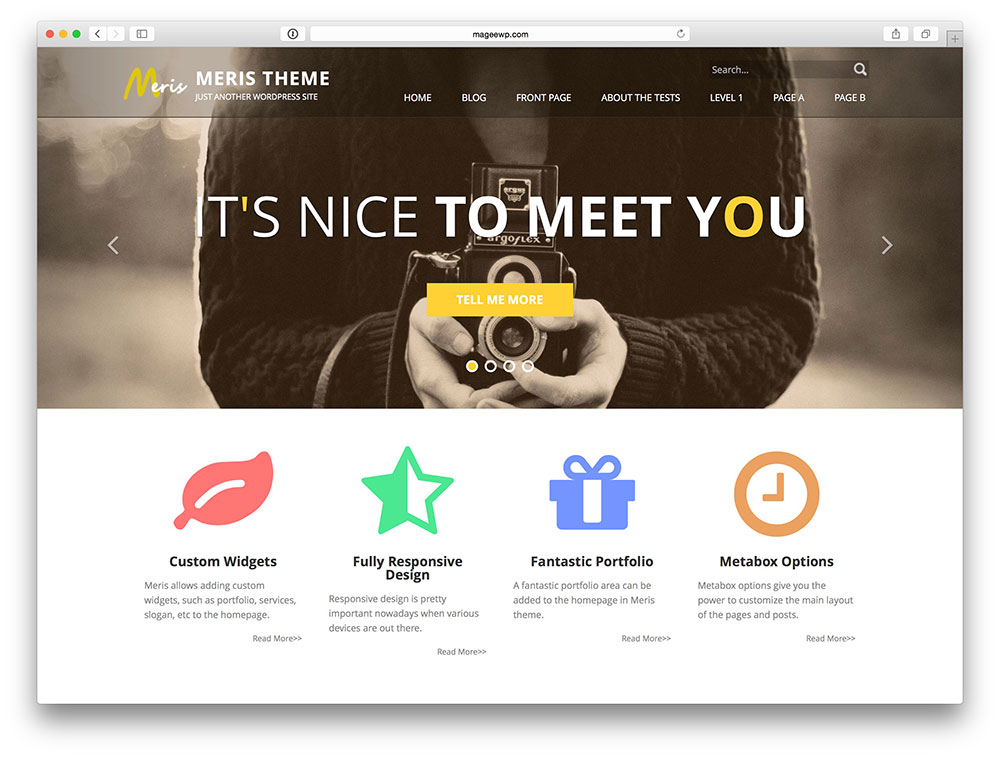 Useful in almost any situation, Meris is sure to satisfy the needs of any customer. Install it to promote your business site, or maybe take advantage of the customization features in order to show off your creativity. Be it business, pleasure, or a mixture of both, Meris has go your back. The fact that widgets area added grants this theme an extra degree of flexibility. Both optional and full width sliders are included, along with social icons and slogon. That to the font awesome icons, you can basically do what you want, and place your icons wherever you want.
No matter what browser or display you are dealing with, Meris can display your content with ease. Without a doubt, all of these features will greatly benefit your future business.
Virtue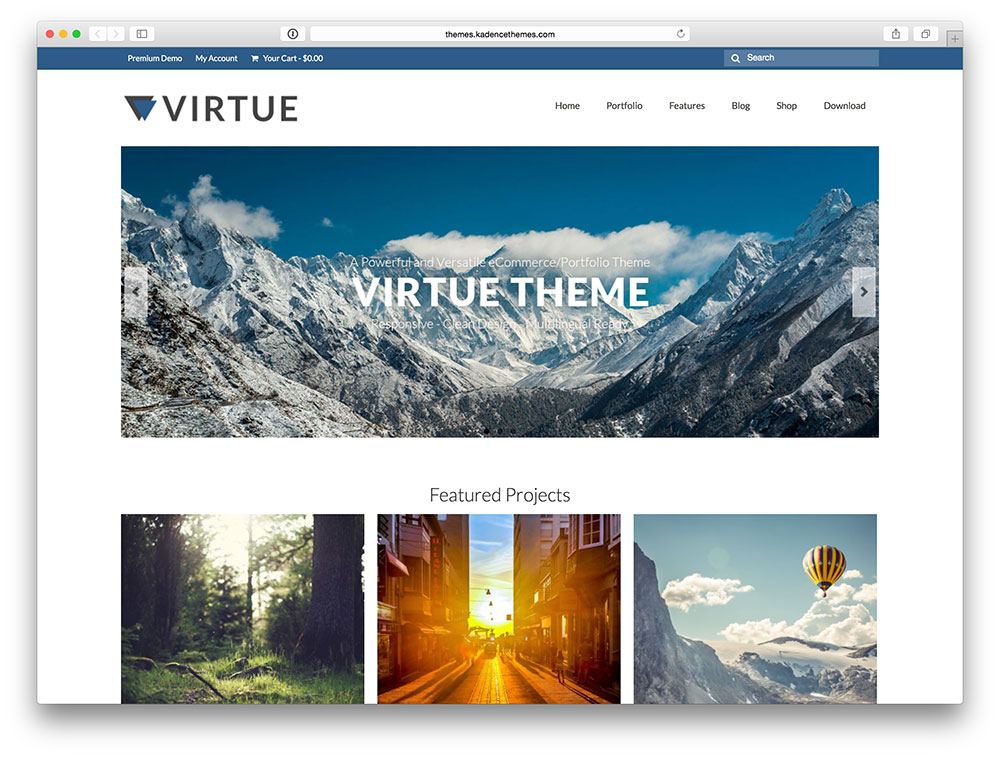 Filled to the brim with features, Virtue is an amazing WordPress theme. It is extremely versatile, capable of adapting to almost any situation. It uses css3 and html 5 for its coding, and takes full advantage of the Bootstrap 3 framework to become as mobile friendly and responsive as possible. People are more likely to purchase a service or product, if they know that their transaction is facilitated by a trustworthy platform.
Virtue is compatible with the Woocommerce plugin, and just as it gives you options to design your content page, it will aid you in establishing your own online store.
Tracks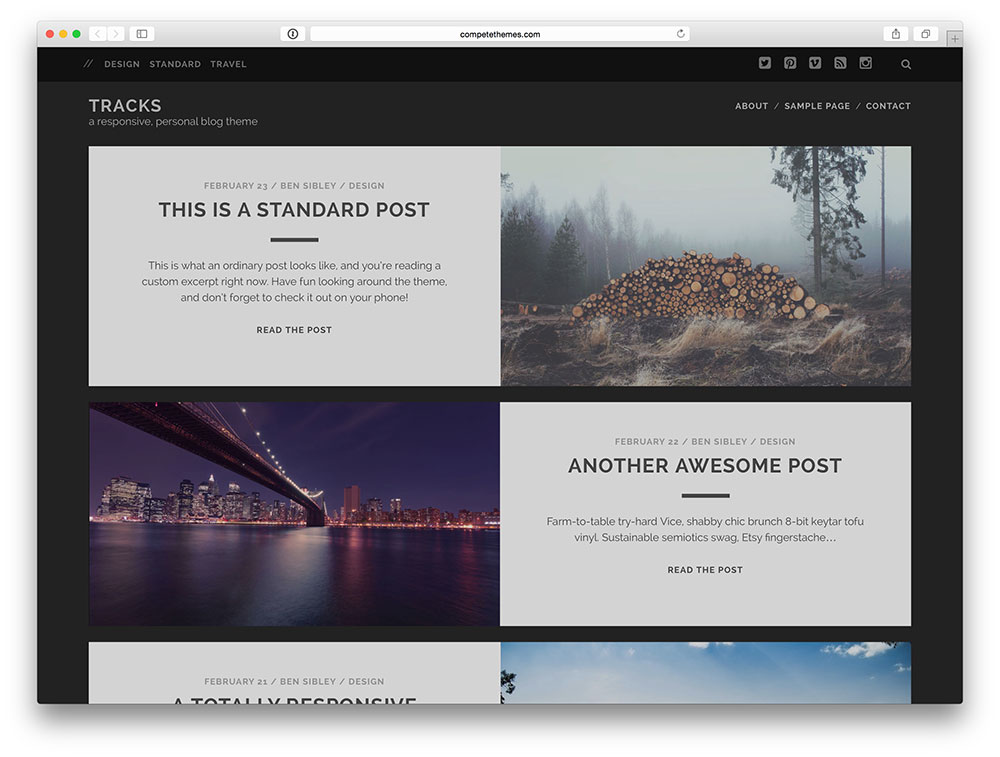 Although it is an oxymoron, the term " complex simplicity" can be used to describe this theme. It's plain designed expresses an elegance that perfectly suits the requirements of Photography websites, personal blogs and magazines. It integrates a responsive layout, sticky posts, a featured image header, and an attractive one column layout. It's user review rate is quite high, with 4.8 out of 5 stars, and over 36,000 active downloads.
Make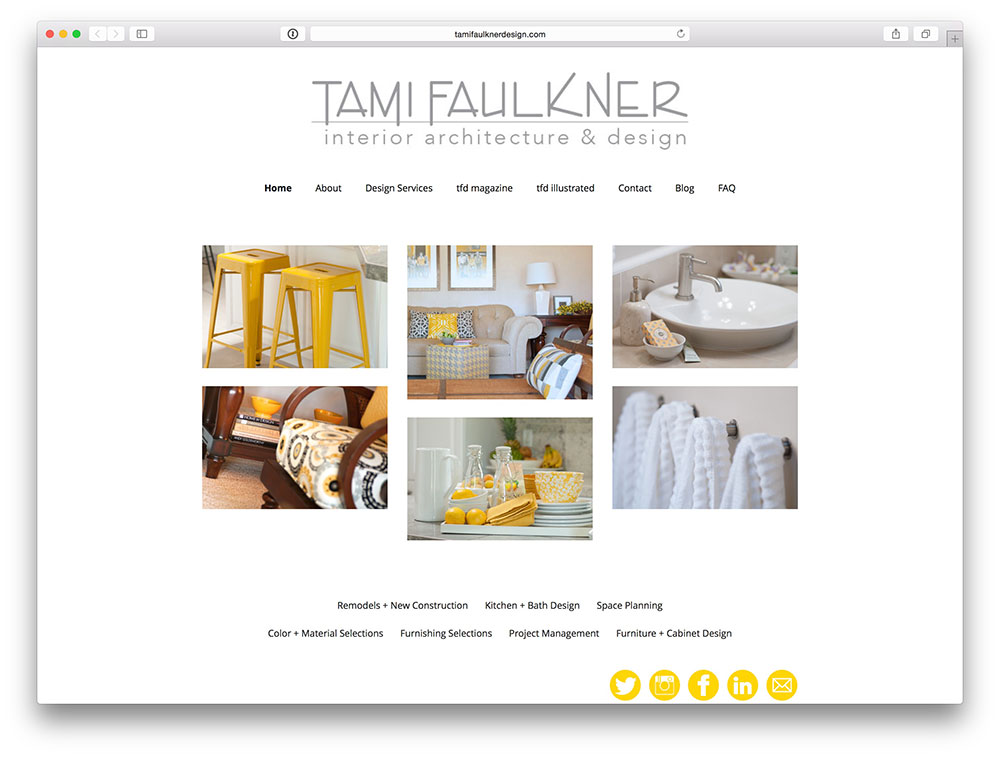 Establishing an online presence can be daunting for those that are not familiar with coding. Thankfully, Make is an excellent WordPress theme that does not require any specialized knowledge. It has integrated some powerful customization features, including a drag and drop customizer that almost makes building your page feel like an interactive game. It can be used for professional business sites, serious magazines, or even personal blogs or online portfolios.
The customizable logos, backgrounds, fonts and colors, add an extra degree of charm, to an already pleasant layout. You have the options to upload and embed your own images or content, providing your viewers with a more personal experience.
Responsive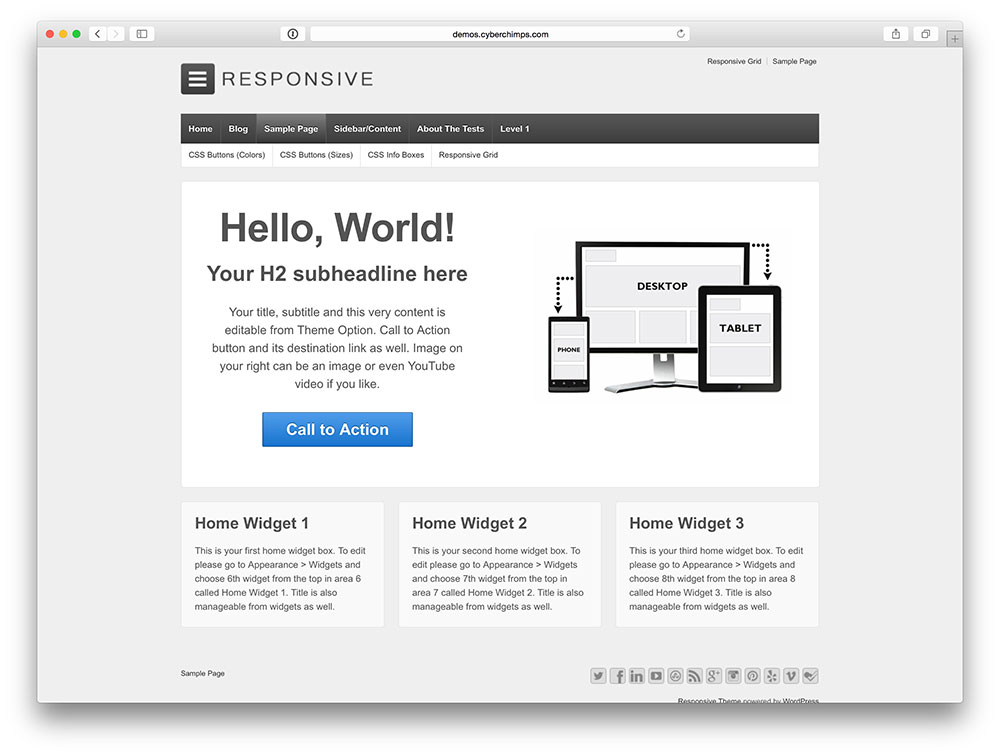 There is an inherent challenge in designing content nowadays, due to the fact that it has to adapt to so many screen resolutions. The Responsive theme is an adaptable ally, featuring a fluid grid system that is capable of displaying your online content on any device screen.
This innovative skin also includes 11 widget areas, 9 page templates, 4 menu positions and 6 template layouts. The Webmaster tools, Logo Upload and social networking tools were also added, making Responsive, one of the best themes on the market. The customer may set up his own online store, thanks to the integration of the Woocommerce plugin.
Spacious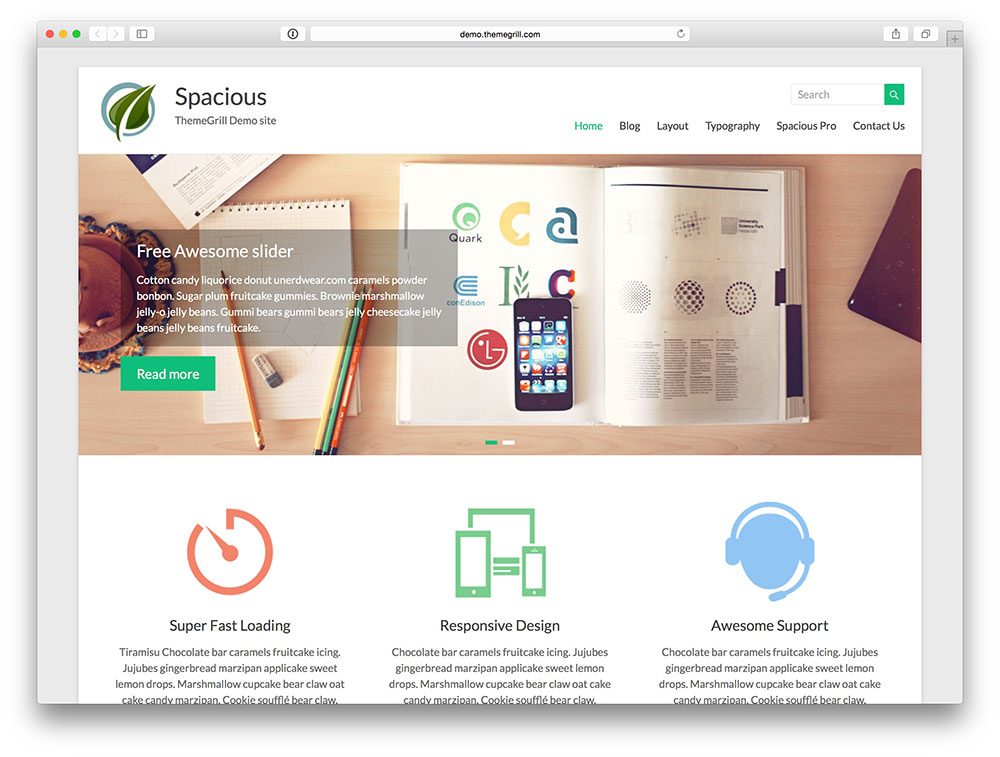 It is really obvious when a developer pours his heart and soul into the content. Spacious shows all of the signs of a brilliant design, coupled with untold versatility. It feels roomy, and capable of adapting to any purpose or business. It may be used for blogging, business or portfolio activities. It includes 13 widget areas, 4 page layouts, 6 page templates,5 custom widgets that focus on templates for business and an awesome slider. You can choose between a darker, or a lighter color skin, upload your logo, or display your page in a variety of languages.
Vantage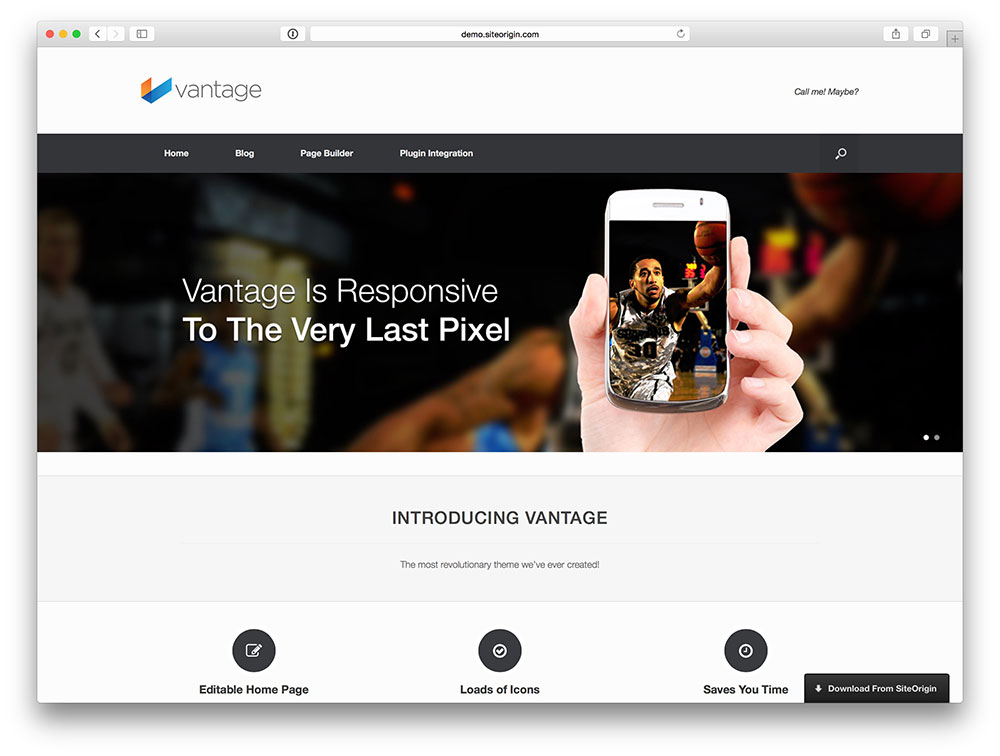 The true hallmark of a good WordPress theme can be found in its ability to integrate some powerful plugins. For example, the page builder allows for some great customization options and some great cross platform responsiveness. Woocomerce integration is a given, making it easy to set up and operate a profitable online store. Be they goods or services, your customers can rest easy knowing that their money was well spent.
It is retina ready, and can display icons and content in very high fidelity, regardless of screen size. Vantage is great for those that are just starting out, and hoping to enter the business world with guns blazing.
Semicolon
Just like any other form of old media, magazines were forced to move into the online realm if they were to survive. This conversion, if it is treated with professionalism, can provide plenty of benefits for the owner. If you are not that tech-savvy, or you simply do not have the time to program your own theme, Semicolon is the best choice for you.
It features a sleek, simplistic design that is best suited to represent written content. A free demo is available, for all those that wish to give it a test drive before making a decision. Please visit Semicolon Demo for more information. The user response has been universally positive, as it has gathered a rating a 5 out of 5 stars.
Hueman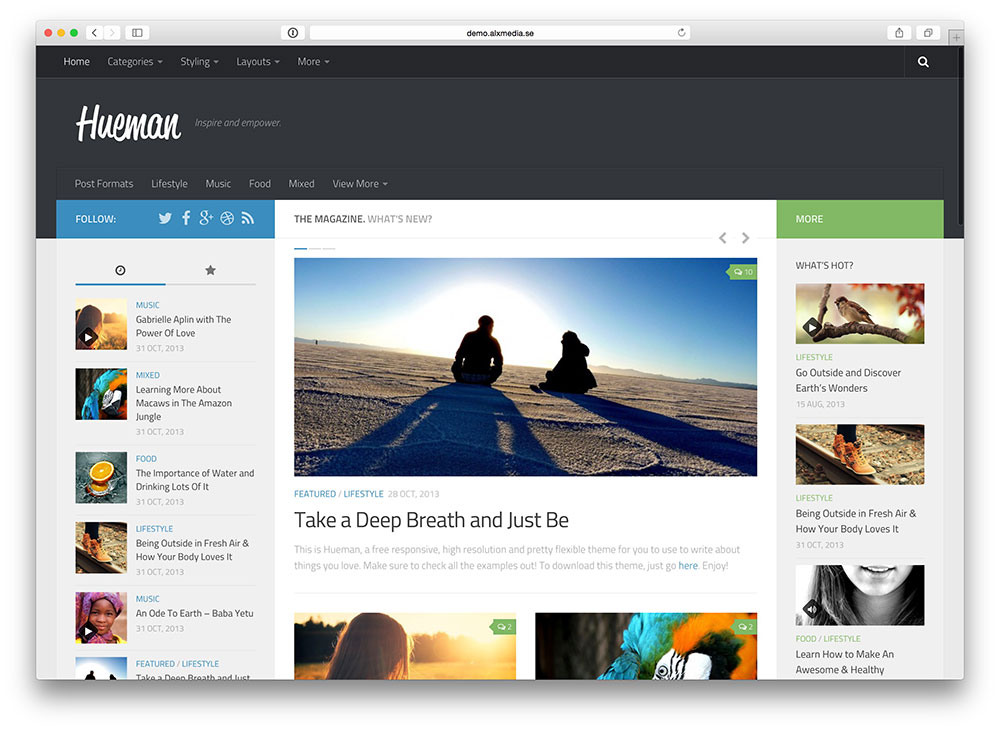 Without a doubt, this is one of the most popular items on our list. With a user score of 4.9 out of 5 stars, and over 320,000 downloads, it must be doing something right. Reading on a smart phones or tables is a struggle, but with the integration of toggle sidebars, your work is made easier.
Hueman has a wide variety of features, including the limitless widget areas, unlimited headers and top bars, the integrations of accent and footer colors, and customizable sidebars that can be adjusted to each post. These are just a few mentions, from the massive laundry list of perks that are available.
Interface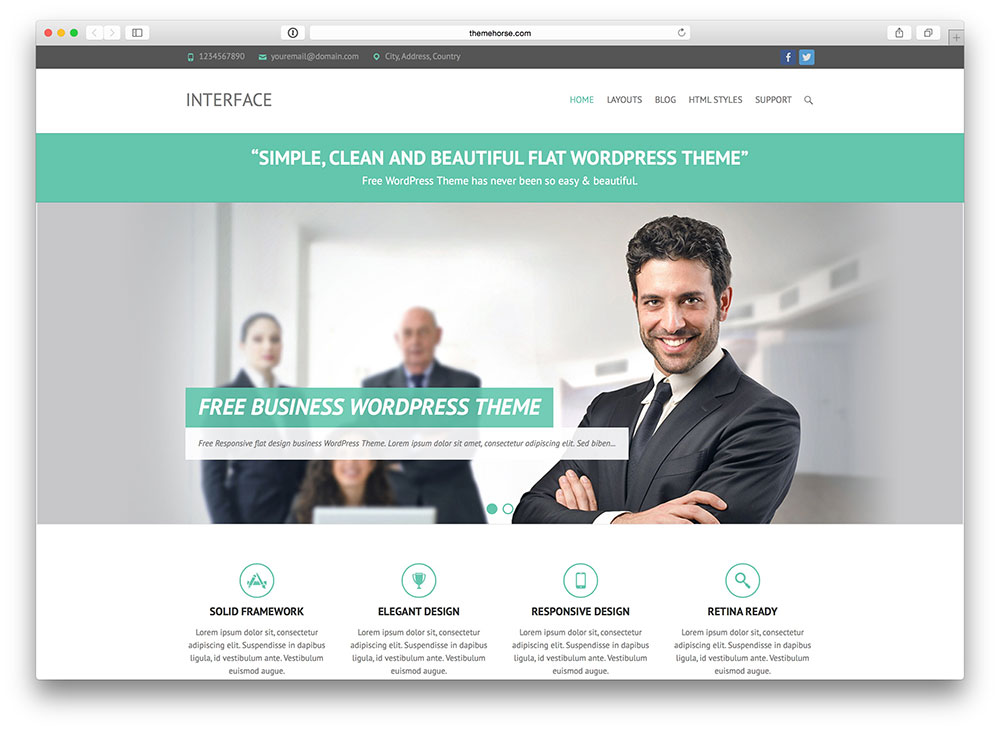 This theme is retina ready, clean, flat and fully responsive. These are all the attributes of a great WordPress theme, because they guarantee that it will adapt to any device, regardless of what browser it uses, or what resolution the screen has. It also does not forget to include plenty of customization options, integrated in order to give the user a high degree of control over the final aspect of his site. It includes excellent plugins such as Contact Form 7, Breadcrumb NavXT and of course, WP-PageNavi. It may also be translated into several languages, increasing your size of your possible target audience. If you are unsure if you should install it, please see theme demo.
Radiate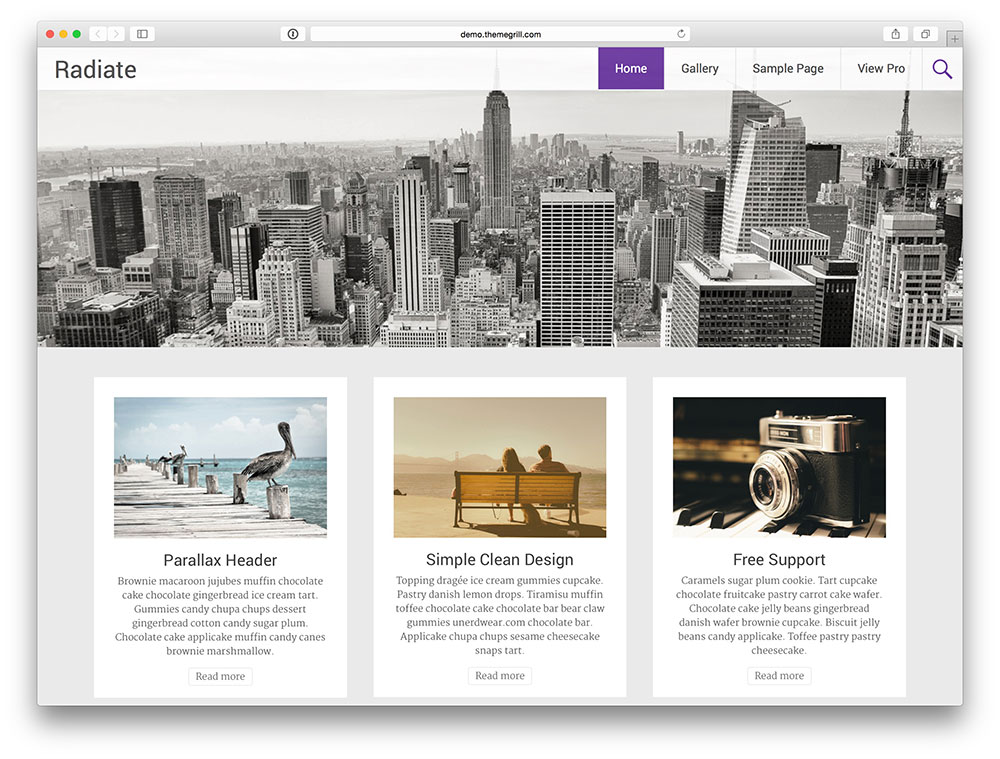 Even though English literacy is at an all time high, you stand to gain plenty of users if you are willing to translate your page. Be it Norwegian, Russian, French, German or Swedish, the Radiate WordPress theme has you covered on all fronts. This product definitely deserves its 4.9 out of 5 star rating, and the over 120,000 times that it was downloaded. If you have any issue, feel free to visit their http://themegrill.com/support-forum section, and register your complaint.
Radiate integrates a custom background, a primary color option, and of course, custom CSS. Overall, this is a good product, and it is worth a look.
Adventurous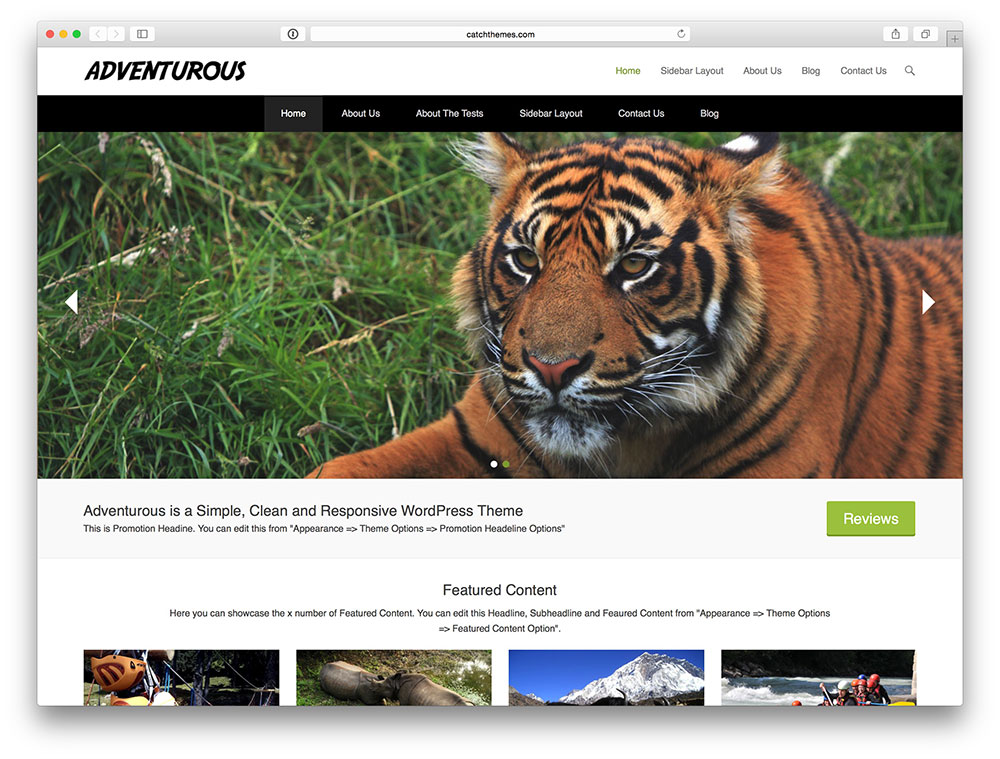 Available in both full width and boxed variations, Adventurous is a clean, simple, lightweight and minimal WordPress theme that is sure to impress. Customization is made easy by the Options panel, which allows for the customer to properly edit every single feature of the theme. It grants you the tools with which to shape your creation, you will be able to make all aesthetic decisions. This theme is not restricted to a single purpose. You can use it for any type of site that you want, without having to worry about compatibility issues. It has multilingual support, so there is a potential for a broader customer base.
Nictitate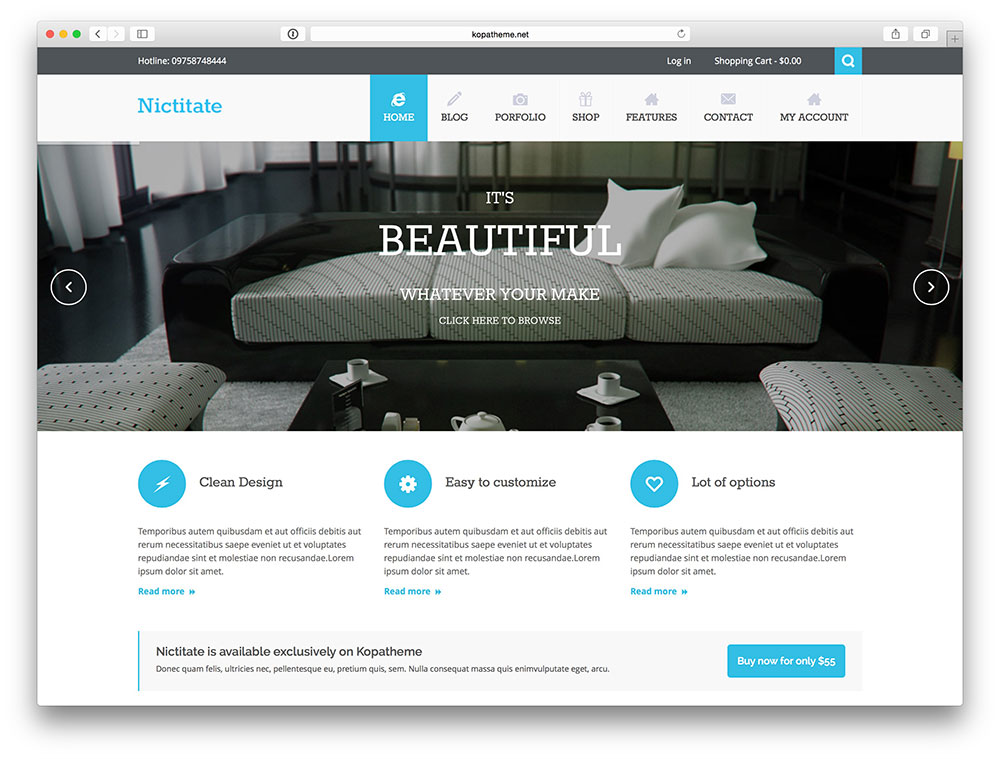 With nictitate, you are able to preview the feature list and a live demo, in order to make an informed decision regarding this theme. Although it can be used for basically anything, it really shines when it is added to a great online portfolio or corporate web site. Every single page of your site can be edited, offering customers a high degree of customizability thanks to the KOPATHEME layout manager technique.
Extremely useful widgets were also added, along with limitless sidebars for the widget areas. Basically, Nictitate grants you a higher degree of user friendliness and flexibility, unrivaled by any other theme.
Minamaze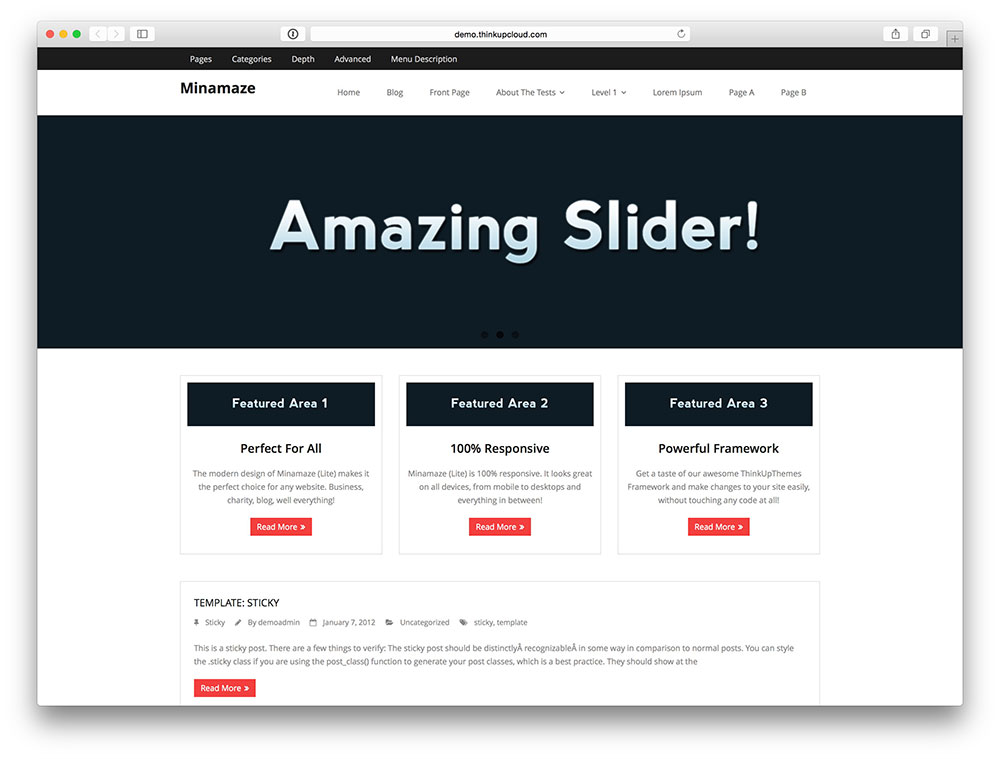 It is foolish to rush into a purchase, without thinking things through. First impressions can be deceitful, and any customer must first try out a product, before deciding to commit. Thankfully, the high quality theme Minamaze Pro has decided to release Minamaze, a reduced free version of its premium software. This theme is capable of displaying high resolution images, it includes a highly responsive layout, and a large amount of versatility due to its options panel. Your web page will be able to display both beauty and professionalism at the same time. Although its use is not restricted to any particular niche, Minamaze is best suited for businesses, Photographers and bloggers. The innovative skin is capable of showing content in different languages, broadening your customer base to include non-Elighsh speaking people.
EvoLve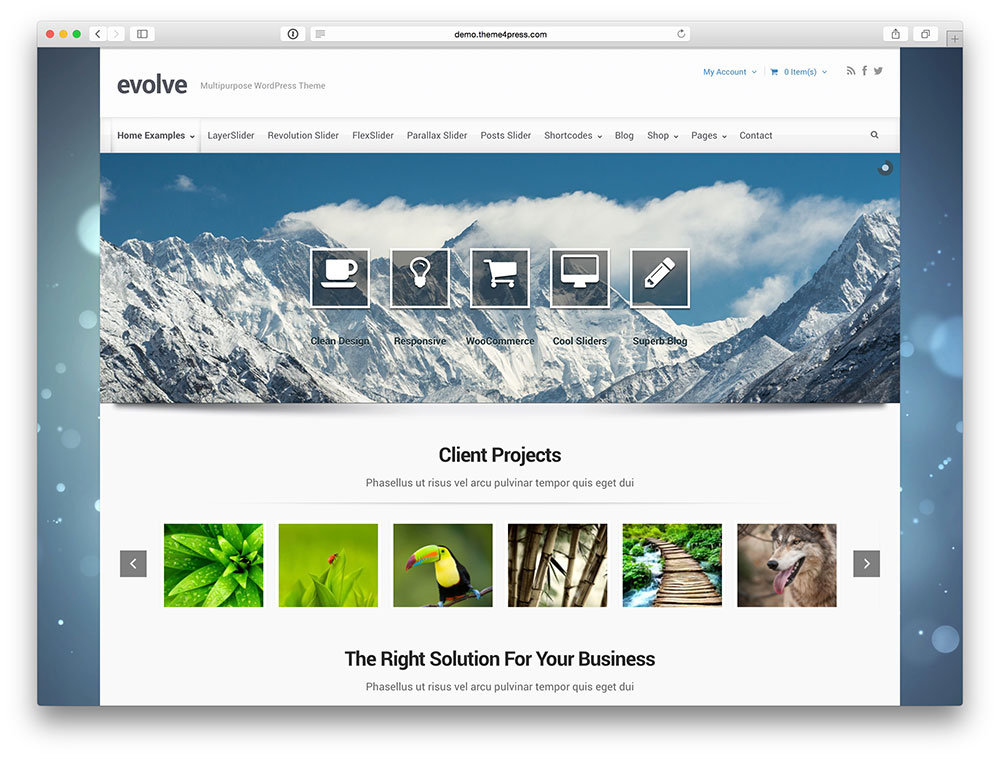 Designed to adapt to any condition and any device, Evolve is a WordPress theme that is able to rise to the challenge. It has incorporated a post slider, and a total of 10 posts for each category in question. It is built on the reliable Boostrap 3 framework, and an innovative Parallax slider with a maximum of 5 slides per page. The sheer amount of features that this theme offers is staggering, being able to rival even the most expensive premium themes. Full customization options are included, with variations for logos, color schemes and sidebars. High definition, user friendly and very adaptable, you should give Evolve a try!
Serene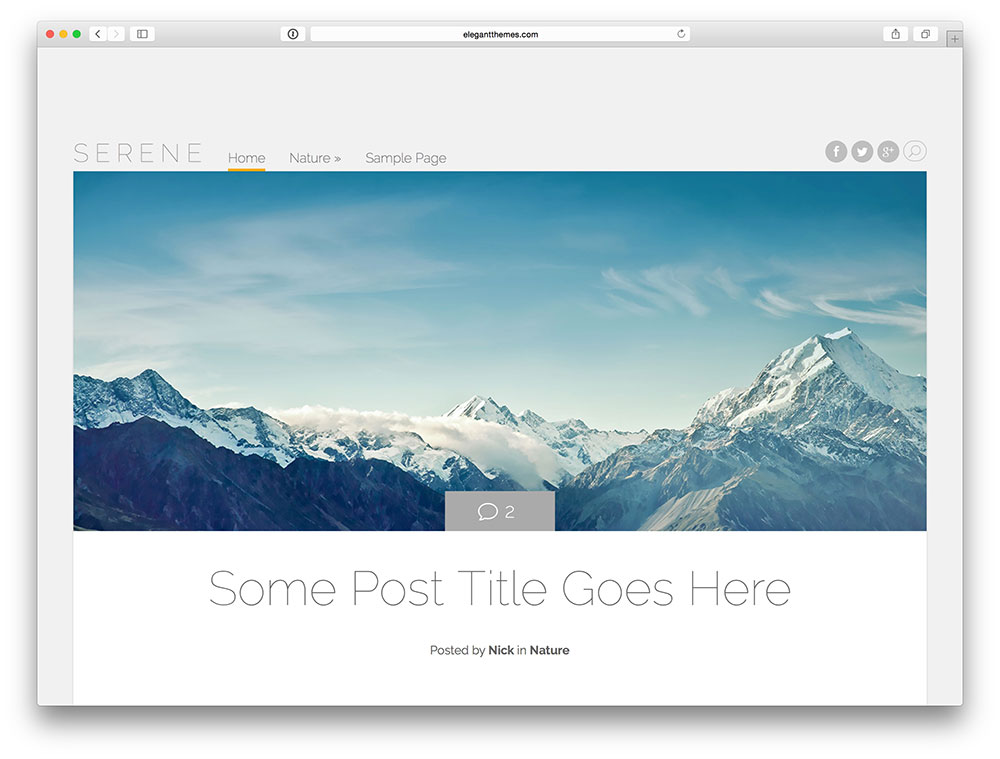 With the recent inclusion of post format support, Serene has transcended what other themes are capable of. A very eye catching theme, it is elegantly designed and extremely secure. The support system is well thought out, it works on any given browser and it has an unlimited color palette.
From the moment you install it, all possible options are open to you. Edit every single detail, because at the end of the day, this is your site. They have even introduced plenty of enticing social media icons, for a more charming experience.
Hemingway – Blog Theme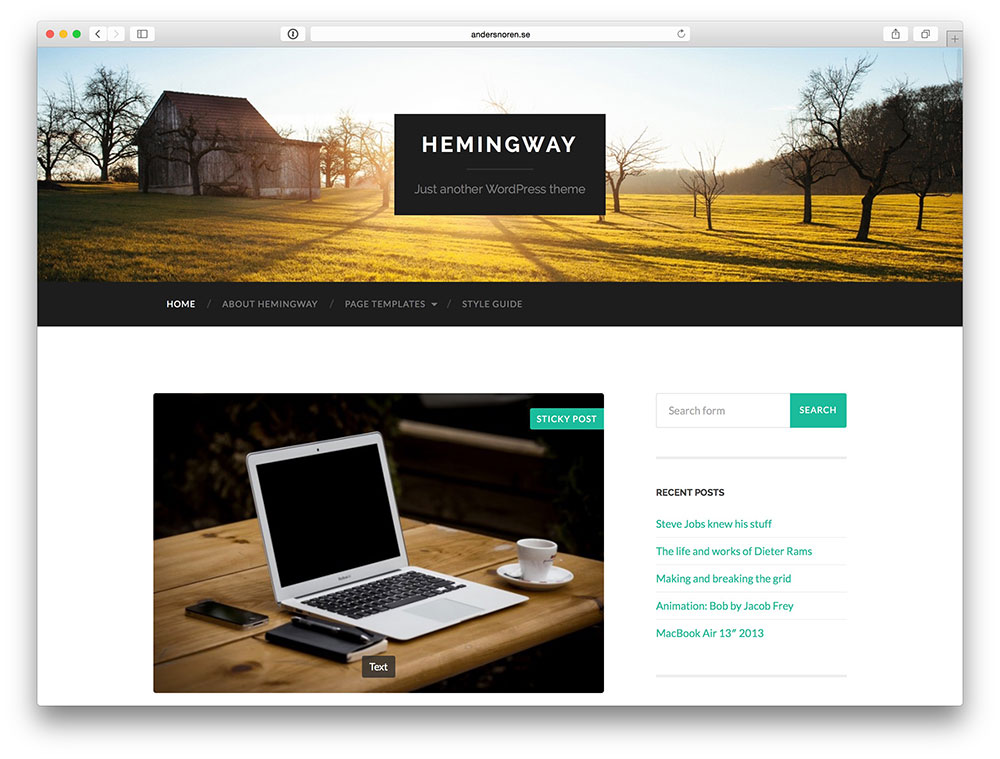 This is of the best two column themes for WordPress. Versatile, and easy to use, it is best suited for bloggers. However, its adaptability allows for it to be installed and use for almost any type of web page. It includes a full width header image with a Parallax scrolling effect, plenty of retina ready assets, and custom widgets. Currently, it is translated into Swedish, but it supports any other type of language. If you are looking for a WordPress theme that is easy to install, and even easier to use, Hemigway is the way to go.
Enigma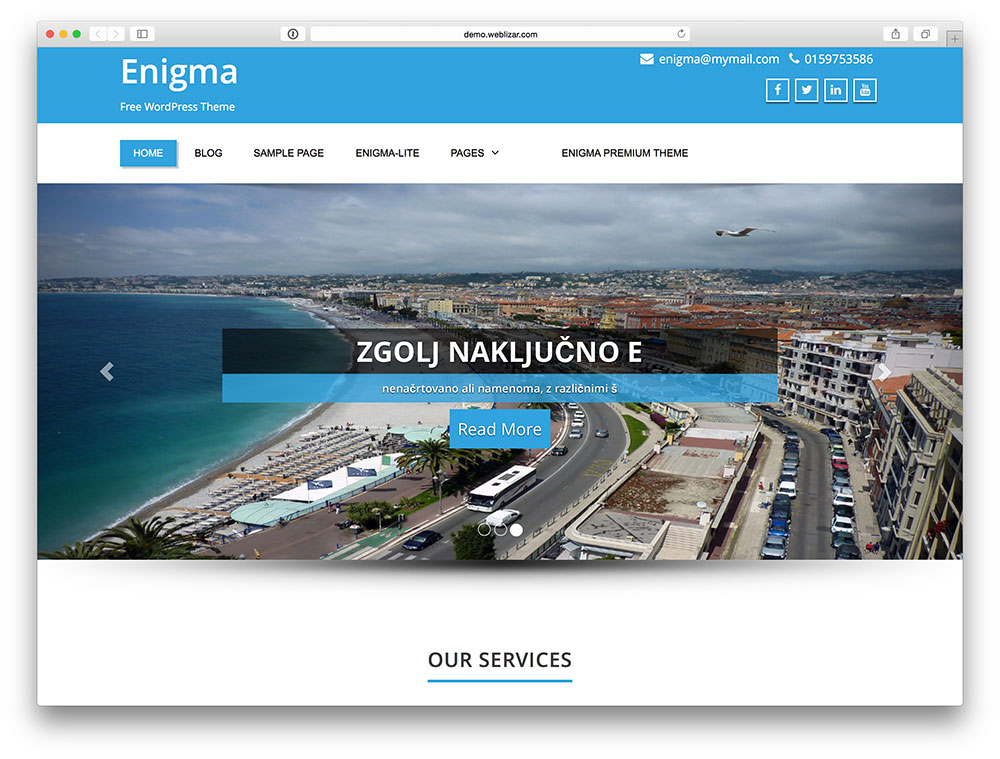 You can really tell that the developers have poured plenty of love and care into this theme.Well coded and fully responsive, it would be foolish to ignore it. It is built upon the Bootstrap CSS framework, and it can be displayed on any type of device. You can even view it on mobiles or tablets.
It works with all major browsers, it has 2 page templates, 4 page layouts and an attractive footer image display. It adapts to the the overall feel of you website and its logo, and it is definitely one of the best products out there.
if you couldn't find the right WordPress theme for your website you might want to check our other free WordPress theme collectionby following this category. There you will find awesome theme collections such as free Bootstrap, Wedding, Parallax, WooCommerceand others.
Fonte: http://colorlib.com/wp/free-responsive-wordpress-themes/