User experience and design is important in determining how people perceive your website and brand. Recently, flat design has seen strong uptake and while many believe it is a passing trend, there are several reasons that suggest it might be part of a bigger shift in digital design. Leveraging the benefits of minimalism, flat design offers sophistication and complexity with simple design. It embraces the limits of the screen, streamlines design, allows for faster load times, and is often more functional. So here are 70 flat responsive html website templates to make a site look impressive without reducing functionality and compromising the main message.
FREE FLAT & RESPONSIVE PORTFOLIO WEBSITE TEMPLATE
An online portfolio is an easy way for designers, developers and artists to display their abilities, technical knowledge, and previous work. A portfolio website is an extension of your resume as it gives a visual representation of your skills and knowledge. Your online portfolio also makes it easy for potential customers to contact you, refer to your work, and understand your style.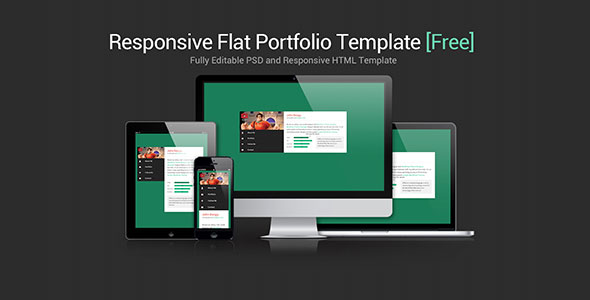 FREE FLAT DESIGN PORTFOLIO TEMPLATE
Coded version of Flat Design Portfolio website template designed by a very talented UI designer from Philippine, Lester Gonzales. You can download this HTML/CSS template for free. This portfolio template is in two versions, one is multiple page and second is single-page version with beautiful smooth scroll effect.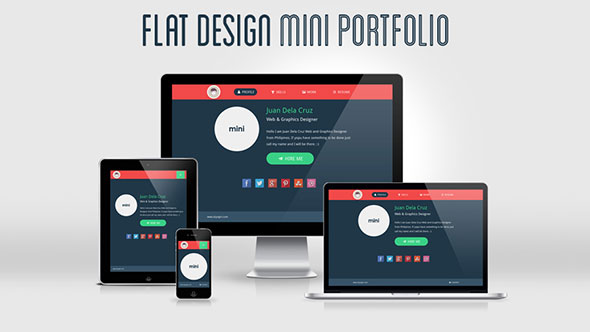 KEYLIGHT
Keylight is a simple one page portfolio template, great for showcasing your work or for a small agency's portfolio. It's responsive and it's based on LESS, which makes it highly customizable.
CREATRIX
Creatrix is a professional template for any business or portfolio website, it's fully responsive design ready to look stunning on any device.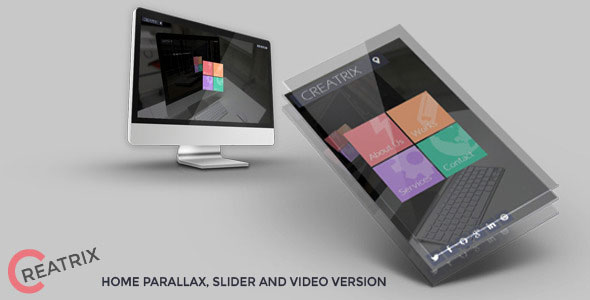 FLATI
Flati is a professional responsive creative HTML5 portfolio template which has been built using the Twitter Bootstrap framework. The template comes complete with 28+ pages, four colour schemes, sliders, carousels, PrettyPhoto, Dribbble photostream, CSS3 Animations a working contact form and also uses lots of features which are available as part of Twitter Bootstrap.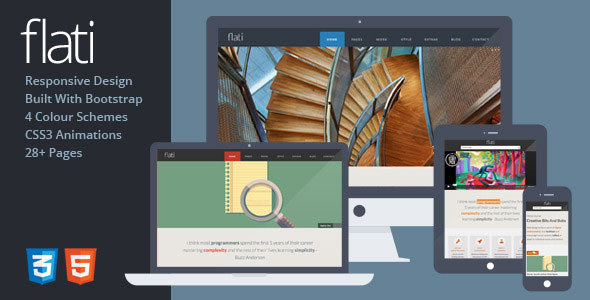 47
47 is a flat and responsive template that has been created specifically for startups, new apps, or companies looking for a fresh, modern, and flat design.The template comes complete with the latest responsive sliders, effective CSS3 Animations to capture your audience's attention, MailChimp integration, login and sign up forms, a pricing table, and concise call to action to generate sign ups.There are also six colour variations to choose from.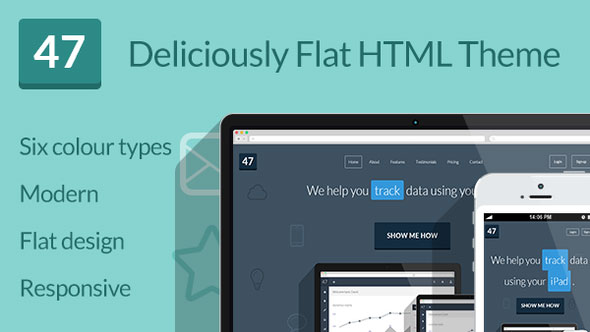 REVUSION
Revusion is a flat responsive, modern and clean design theme. Comes with many feature and super flexible. There are several different layouts, one of them are the blog and contact to ensure that you can pick exactly what you want your site to look like. Equipped by Slider Revolution Responsive jQuery Plugin and is very important that our theme makes it special is focus on details the highest quality code and you can get layered PSD Files.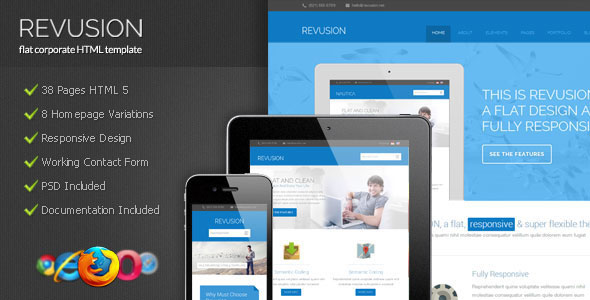 BOXIN
Boxin is a creative theme for personal portfolio. Created for retina display so you can upload amazing graphics. All shapes are 100% resizable and image placeholders are easy to edit.Boxin looks awesome on mobiles too! It will display nicely on all devices (phones & tablets) thanks to proven technologies we have carefully selected.If you browser the details page from a tablet or a mobile, you'll enjoy checking out the photos.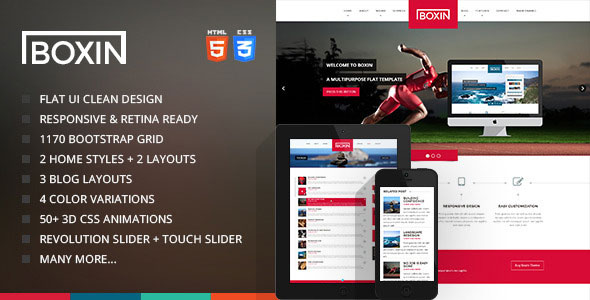 SHIRTBOX
ShirtBox is a multipurpose HTML5 template with unique square look following the latest flat-design style trend. It's perfect for ecommerce site selling any kind of stuff, from clothing to household appliance. It also can be used on a creative business website to showcase portfolio projects.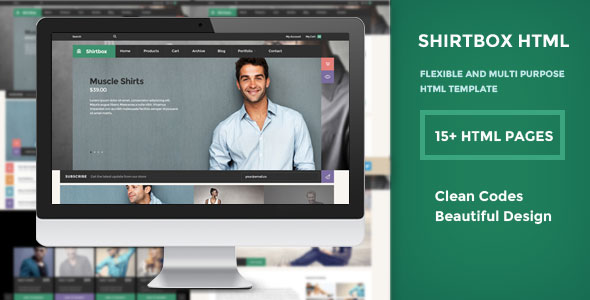 HYPERTEXT
The Hypertext is an awesome Flat Portfolio HTML Template which brings many useful and most popular functions with Flat Design which is popular right now. It's ideal for any corporate agency, creative studio or for personal portfolio.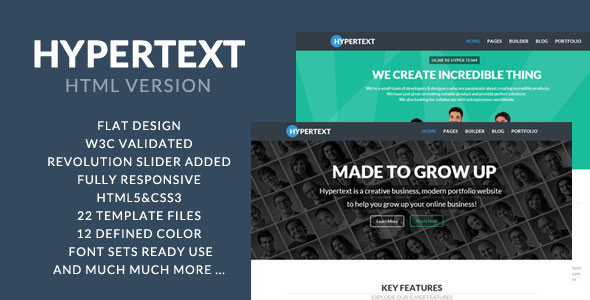 PROFECTUS
Profectus is the perfect html template for the creative agency, freelancer or general business. Strong lines, strong colors and a bunch of super-awesome features make Profectus the perfect template for the creative agency, freelancer or general business.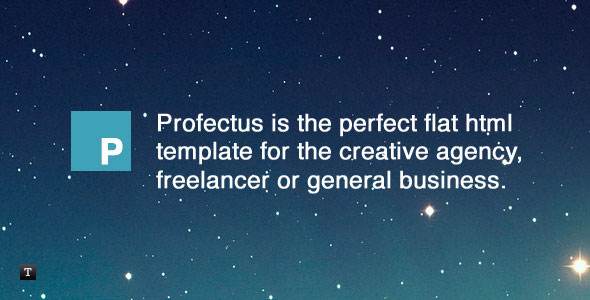 RUBIO
Rubio – Flat HTML TemplateRubio is a multi-functional, super responsive, retina-ready theme that's perfect for your business, consultancy, or portfolio.Template SupportThis template comes with great documentation and notes used throughout the HTML.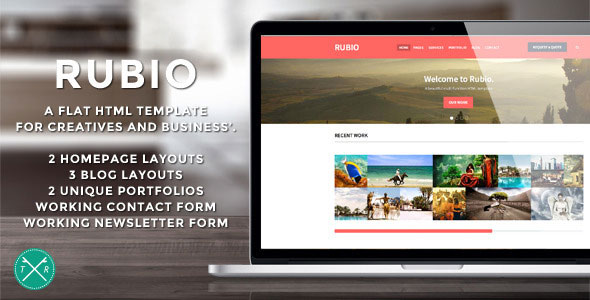 KYTE
WordPress version of Kyte has been released. Check it out here!Kyte is a flat, responsive, HTML5 site template built with Twitter Bootstrap with unique portfolio. It can be used both as onepage and multipage. Kyte will be useful to artists, photographers, creative agencies, digital studios, personal freelancers, and any kind of business owners that would like to showcase their portfolio beautifully.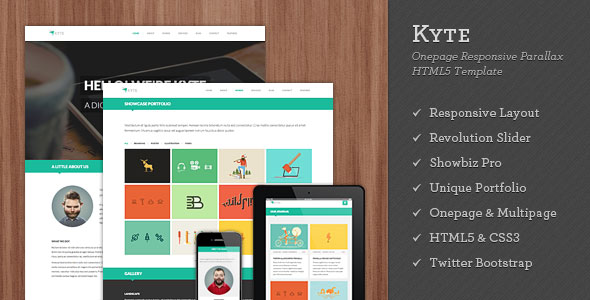 MARBLE
Marble is a flat, responsive, HTML5 site template built with Twitter Bootstrap with unique portfolio. It includes 6 different homepage layouts and 2 blogs. Marble will be useful for artists, photographers, creative agencies, digital studios, personal freelancers, and any kind of business owners that would like to showcase their portfolio beautifully.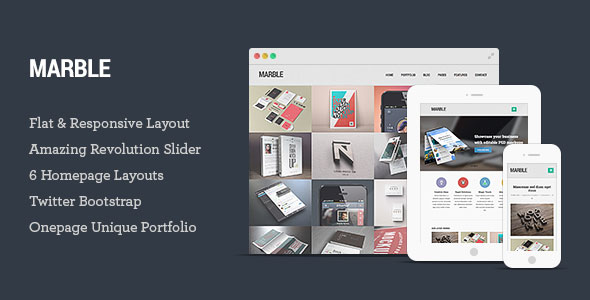 CANDY
Candy is minimal & flat responsive One Page Template, perfect to promote your portfolio. With a responsive design it is easily usable with any device (desktop, tablet, mobile phone…).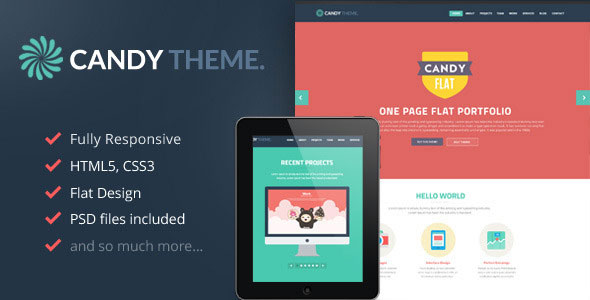 COLANGINE
Colangine is a Creative and Flat HTML5, CSS3 Template with 66 Valid html templates, Multipurpose and modern, fullwide, boxed and blocked version. Dark and Light With 10 Custom colors and you can easy change all colors. Well Documented. fully responsive with pretty dropdown menu navigation for small screen devices. Wow 13 Awesome slider with different effects. landing page, email template and coming soon page included with template.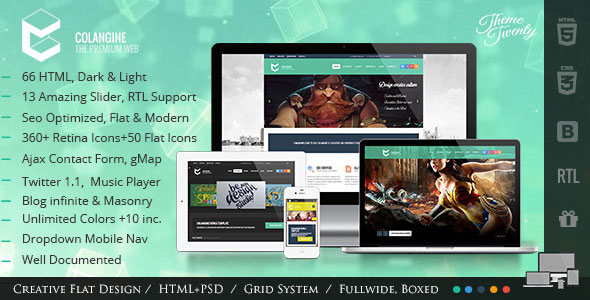 REVEAL
Reveal comes with a completely editable layout with the power of Bootstrap framework. This can make it extremely easy for ordinary users to setup their own website. But it is also possible to extend the template to any level as your creative freedom. You can even extend this template to build stunning animated masonry portfolio websites. This template includes w3 valid cross browser compatible HTML5 markup.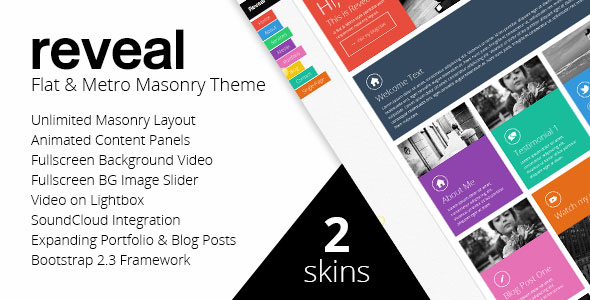 ILEVEL
iLevel is a professional responsive creative HTML5 portfolio template which has been built using the Twitter Bootstrap framework. The template comes complete with 30+ pages, four colour schemes, sliders, carousels, galleries, PrettyPhoto, photostreams, CSS3 Animations, a working contact form and also uses lots of features which are available as part of Twitter Bootstrap.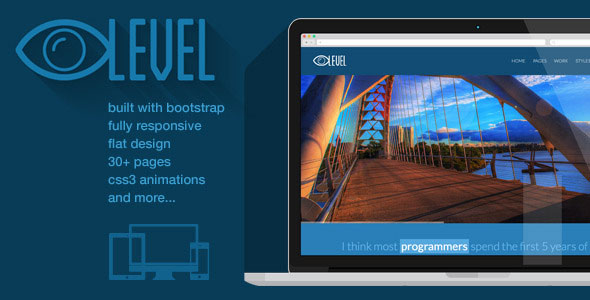 FLAT SURFACE RESPONSIVE COMING SOON
Premium, stylish and responsive 404 error template with amazing background animation. This can be used for companies that are error page or page not found online with their bussines or any other site.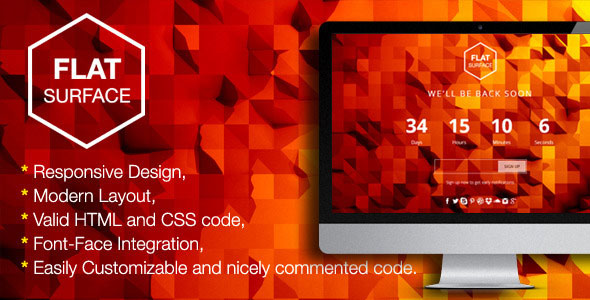 AMADA
Amada is a clean and fresh theme with the flat design. And of course all of our themes are Responsive Ready We have put a lot of work to make it more easy and more friendly for our clients to use.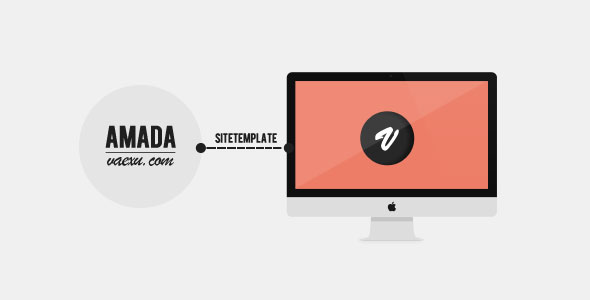 RINNA
Rinna is a responsive one page template, designed for many kind website such as corporate business,
portfolio, personal site etc.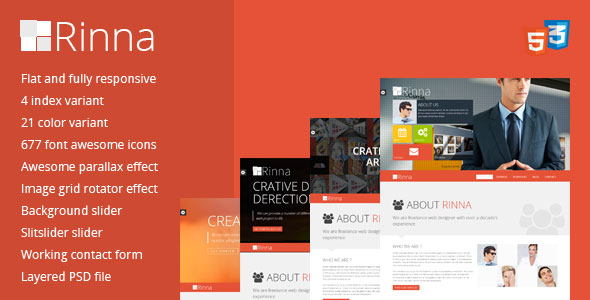 MYDESIGN
"MYDesign" is a One Page Multipurpose Flat HTML5 Template, based on 960 grid, 2 Layered PSD files included.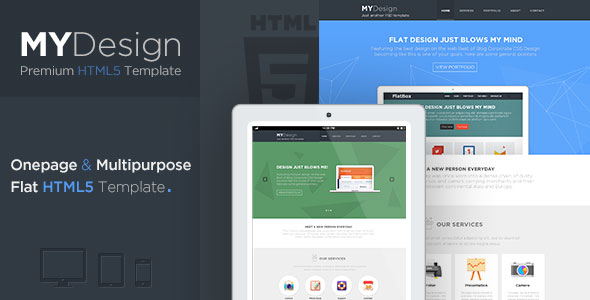 FLAT RESUME VITUAL BUSINESS CARD HTML
Flat Resume is a Online Business Card Resume to show your skills and work. Perfect to promote your work!This clean and corporate CV / resume HTML template will help you set up a professional online CV in minutes and increases your chances of finding a suitable job and getting new businesses.It comes with a blog page and a blog post page for your personal use.NOTE: The online samples images belong to their respective owners and are only used for demo purposes.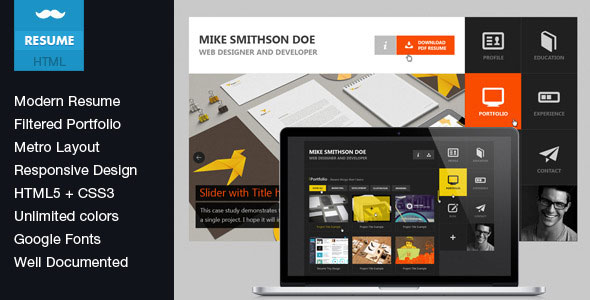 T.JOY
T.Joy is a flat and creative responsive HTML5/CSS3 site template. It is perfect choice for your corporate agency, creative studio or for portfolio. It can be customized easily to suit your needs.The photos used in the template are not included in the main download file, they are only for the preview purpose.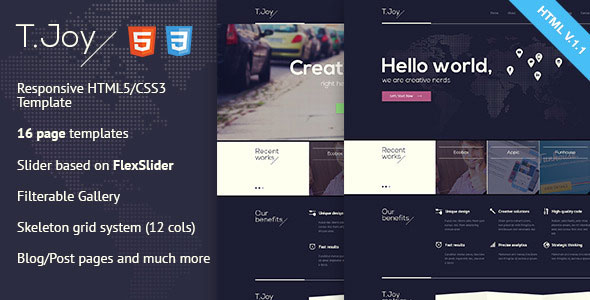 PGL
PGL Hosting HTML Template is a premium unique and creative HTML template, Minimalist Flat Design Perfect for a company about Hosting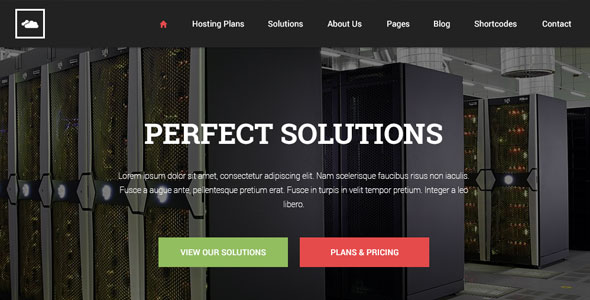 FOG
FOG is a flat one page design which is extremely clean, modern, responsive and creative. This html version is based on bootstrap3 (Twitter Bootstrap Framework) to make your unique website for: business, portfolio, creative agency, corporate, freelancer, mobile application, blog, etc.This template comes with a lot of features: bootstrap3, different effects, ajax, easy editing colors, revolution slider, and much more.You can integrate this design easily in wordpress, joomla, drupal, or other CMS. And also you can choose the style you prefer out of 3 styles given under tabs above each section like portfolio, services and team sections.Note: Any media – Images, icons or logos used in previews are not included in this item and you need to contact authors to get permission in case you want to use them in your commercial or non-commercial projects.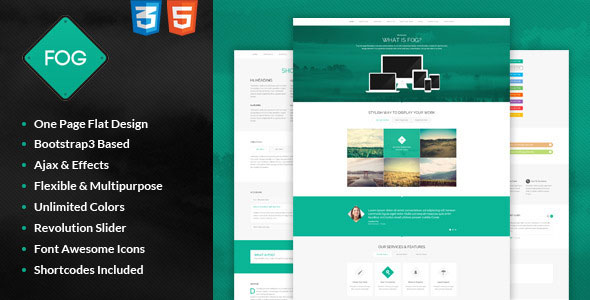 FLATBOOK
FlatBook is a fully responsive hand coded ebook or app selling landing page featuring a trendy but unique flat design in nine color schemes. FlatBook suits perfectly every businesses or individuals who would like to showcase an ebook or an application with a onepage marketing landing page in a sophisticated, eye-catching way.FlatBook was built to be as easy-to-use as it can be, so it don't matter how much you know coding, FlatBook will provide the perfect solution to make your app or ebook landing page stand out from others.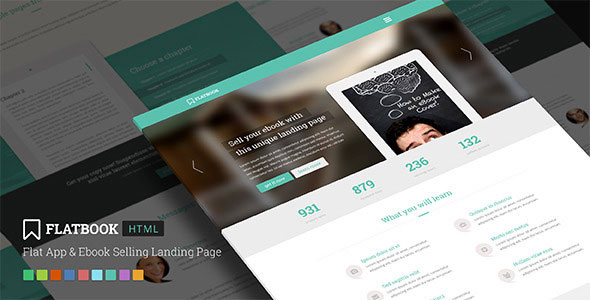 18AUGST
18augst is a flat and responsive portfolio gallery template, designed for many kind website such as gallery inspiration website, portfolio, personal site etc.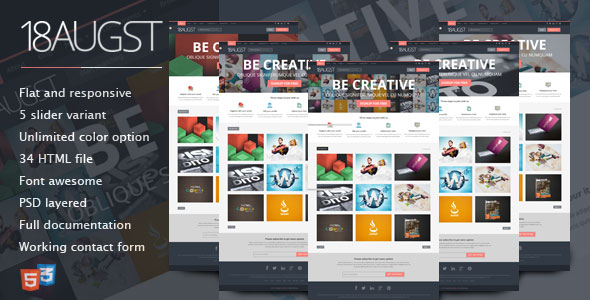 WILDER
Wilder is the ultimate and professional way for you to present your portfolio or the very best starting point for your own corporate website. If you are searching something different and out of the line, please check out the Wilder – Flat One Page Responsive Website Template!Wilder is fully responsive – resize your browser window to see it in action. All the layouts are built with responsive design in mind. It works well on desktops, tablets, and mobile devices. The template is perfectly adapted to various screen sizes, and its attractive fresh design makes it look great.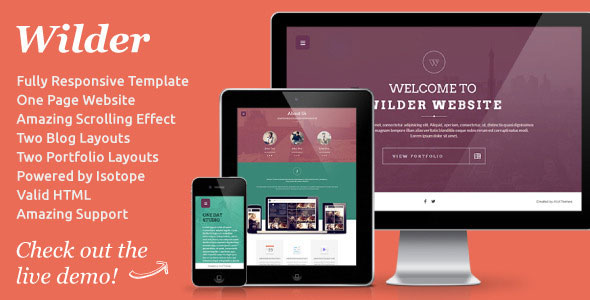 VISION
Vision is a unique, modern and functional single page html template. It's a perfect for any creative studio, corporate websites, photography or for portfolio. Template has two color options – orange and green.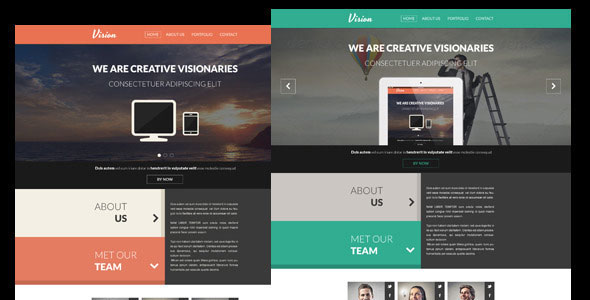 PRANCIS
Prancis is a clean, young, modern and flat responsive one page site template that perfect for agency, studio and creatives to showcase portfolio or represent their company profile.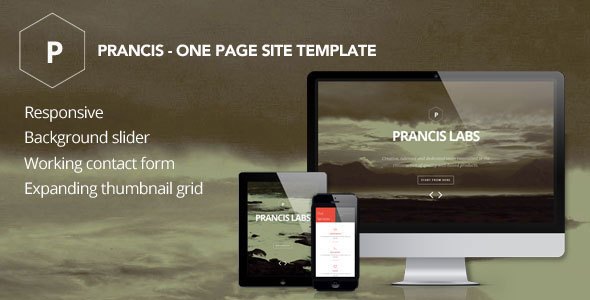 MOZART
If you like our theme please do not forget to rate it! Plaza is a Premium Business & Marketing Landing PageBased on Bootstrap FrameworkMozart is a highly re-usable creative retina responsive theme with flat design style and metro colors, built with a touch of uniqueness in everything. This theme is fully responsive and mobile optimized.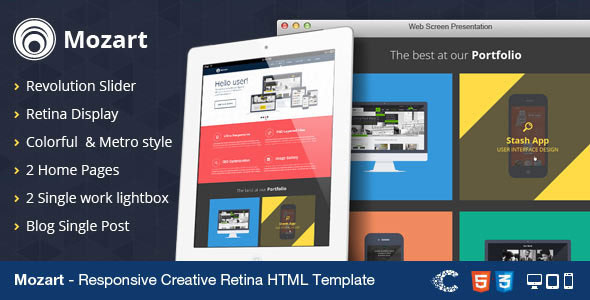 ARKOS
Arkos – a carefully crafted portfolio theme . Modern flat desing and easy customization makes it a great choice for any creative company , graphic designer , photographer etc .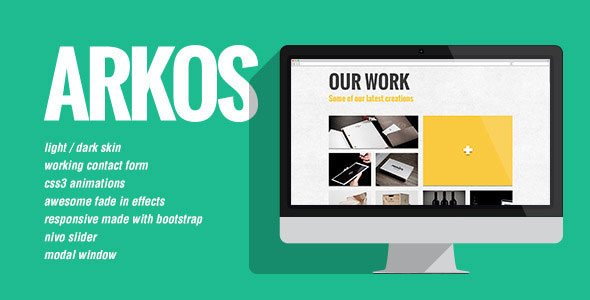 DE7IGNER
De7igner – Flat iOS7 Inspired Coming Soon Template is a fully configurable and easy to use responsive under construction template with HTML5 Video Background Support and a lot of other great features.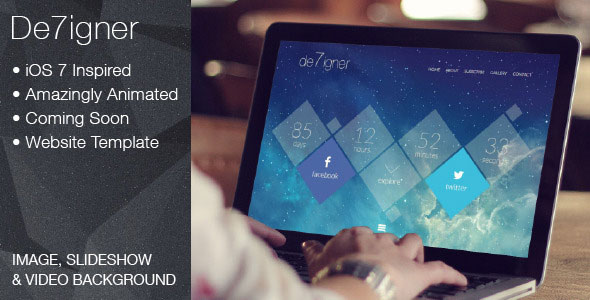 ALPONA
Alpona is very powerful & responsive admin template utilizing the latest technology. It's ease of use is in part to the Bootstrap3 framework and the implementation. Uses CSS3 , HTML5 , Media query, touch friendly and very much adaptive with any size viewport including iPhone, iPad, android phone and tablet.Powered by jQuery and Bootstrap3, Alpona includes many plugins implemented in 32 separate HTML files and also has a large selection of Icons Font, Widgets, Charts, Notifications, Tooltips.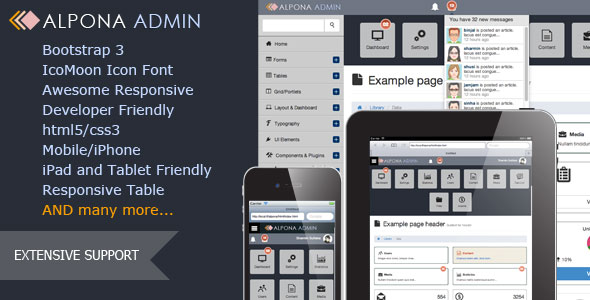 DELTA
Delta is minimalistic flat designed template. Uses minimum jQuery plugins for smooth running and high compatibility with older devices.Delta is fully responsive, retina ready template.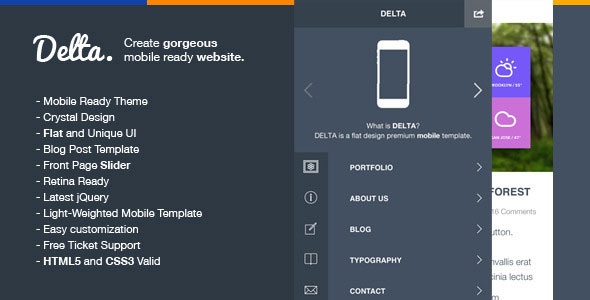 SHAMCEY
Shamcey is yet another new metro style admin template built using Bootstrap and other jQuery plugins that is perfect for your next projects.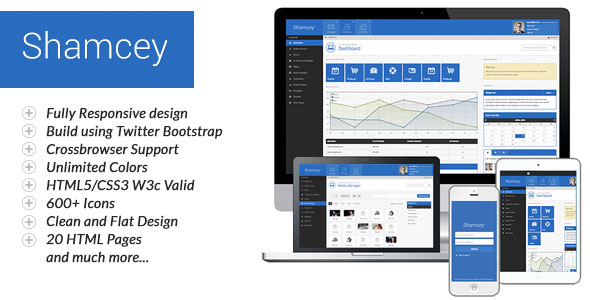 FIRST
first is a mobile first web app / admin dashboard theme with flat ui based on Bootstrap 3, it's lightweight but with many components suit to your need.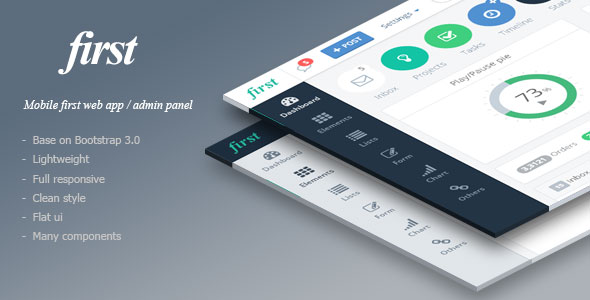 BIZNUSS:
Biznuss is presents a fresh take on the business category. Utilising bold colours and playful elements Biznuss is both modern and versatile; working equally as well for corporate or small businesses.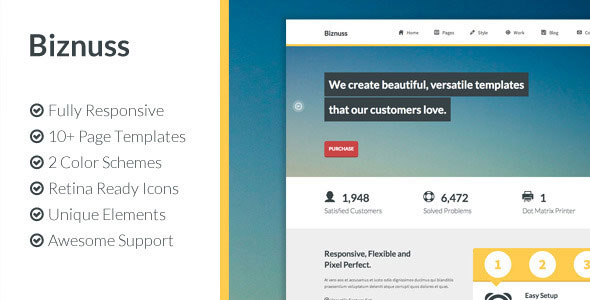 REALIA
Flat, modern and clean design Reasonable use of UI elements and whitespace.100% Fully Responsive. There is no limitation in viewing Realia on any popular device. Realia is fully responsive from small smartphone screen to big desktop monitors.Retina Ready. Realia looks great even on Retina and high-resolution displays. Every graphic element is sharp and clean. No blurry images anymore!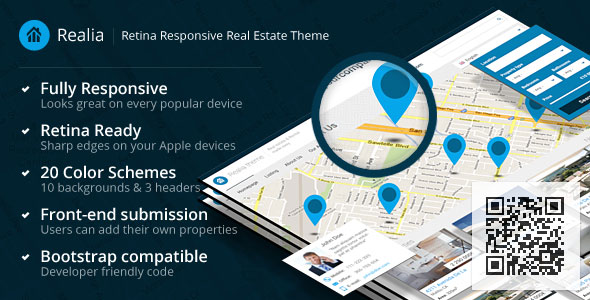 START
Start is a new responsive admin template based on latest Windows 8 interface. This one, called Metro UI, has its roots in the design principles of classic Swiss graphic design – minimal, bold, high contrast and flat colors are some of its great features.Start is the starting point for your next web application. Its suitable for any user interface or administration panel, for any devices – from desktop to mobile devices. Start using now and be whats next for the future of web applications!Start admin template will save you a lot of time in your development process. Build on famous Twitter Bootstrap framework and updated for using Sass (CSS preprocessor).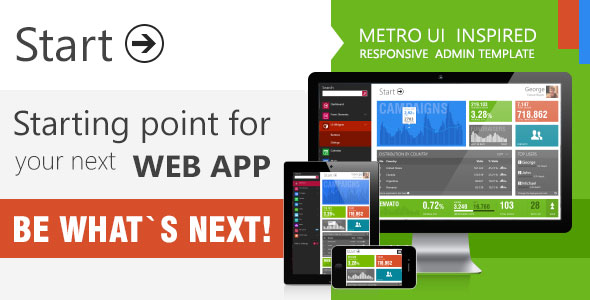 SOLANA
Solana is a cross browser compatible, retina ready, responsive HTML5 /CSS3 template with touch support that features a clean design that is multipurpose template which is suitable for a wide variety of websites. Tons of Customizations are possible with this template that'll help you redefine your website's brand value.4 Sliders Included, 5 variants of home pages. It uses Skeleton CSS Framework and is 100% tablet/phone friendly.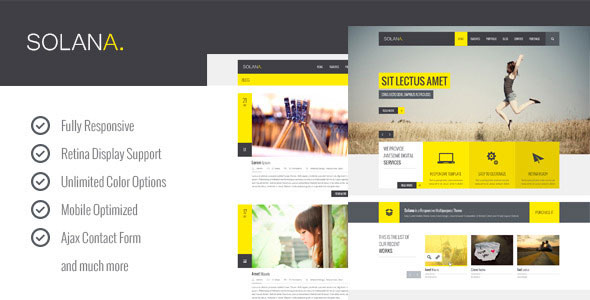 SANGOMA
Sangoma is a modern flat Bootstrap template for any backend, user interface or administration, both for desktop and mobile users. Built on latest Twitter Bootstrap and powered with LESS, Sangoma will save you hours in developing your project. Template is available in 8 default colors and packed with basic and popular user interface elements and widgets.Built on Twitter BootstrapBootstrap is one of the most complete front-end toolkits over the internet. Thats why we decided to use it as our skeleton framework for all upcoming templates. Maintaining native Bootstrap functionality, enriched of pleasing design and tons of new template features, makes it very powerful UI kit for rapid development.Code LESS!LESS makes coding CSS much faster and more efficient. Variables, mixins, operations, and nesting allow us to make template customization as easy as possible. Each template comes with separate config file giving you control to easily midify size, fonts, images and mainly colors to suit your needs. You really should take a look at LESS, if you did not yet Responsive designResponsive and cross-everything design is a must have these days. Supporting new HTML5 syntax, CSS3, Modernizr, Selectivizr and many others up-to-date technologies we can handle all major browsers and devices to provide a consistent experience.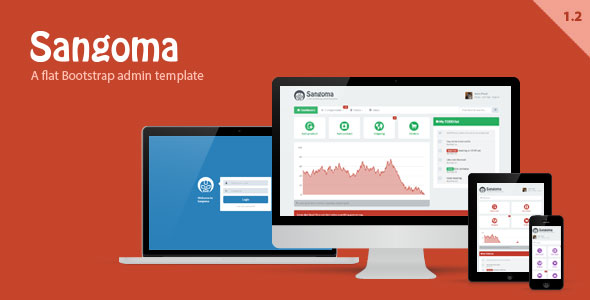 PARIS
Paris is a professional responsive creative HTML5 portfolio template which has been built using the Twitter Bootstrap framework. The template comes complete with 30+ Pages, Four Colour Schemes, Slider Revolution, ZoomFolio, Parallax Sections, Carousel, PrettyPhoto, Social Photostreams, CSS3 Animations a Working Contact Form and also uses lots of features which are available as part of Twitter Bootstrap.Paris also includes two premium plugins, the number one selling Slider Revolution and ZoomFolio.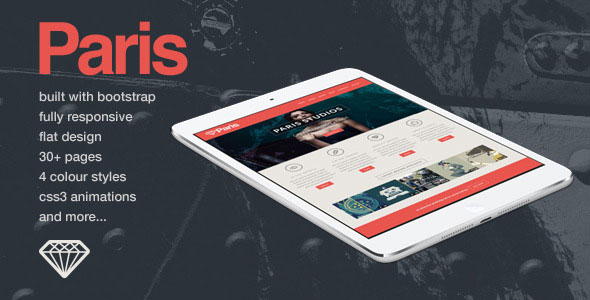 PHOTOSOON
Photosoon is a full responsive and super clean under construction page and it's compatible with Retina Display.
It was made to be simple in use. A simple and clean countdown timer is always a great feature to have if you are committed to a deadline. You can also start to build up your users base giving them a subscribe area, so they can get updated when your site is ready to go live.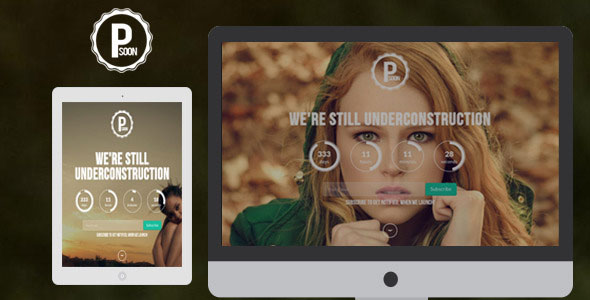 GAMMAR
Theme was designed and coded by: kopatheme.comFully responsive , It is a great magazine website template because they give your website a professional design with a constant look and feel on all devices. It doesn't matter if a user is viewing your website on a desktop, tablet, smart phone or any other mobile device.Using some of the most popular current design trends as HTML5, CSS3 and jQuery, it is unique in it design and can be customized easily to suit your site. We hope this great magazine website template will help get you started building an online magazine right away.The above demo images are copyrighted to their respective owners under Creative Commons-licensed for commercial use, adaptation, modification or building upon. The images are used for demo purpose and are NOT included with the download.Whether you are a startup with limited resources and time or looking to give a magazine/blog look and feel to your next web project, ForceFul responsive HTML5 magazine website template got you covered!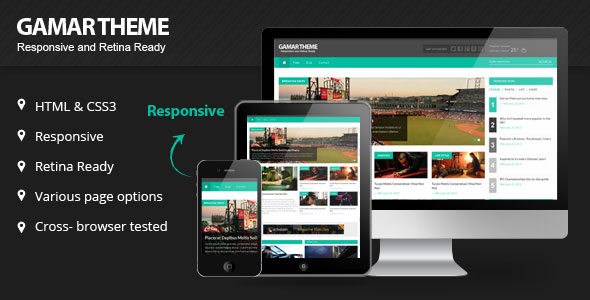 SALAD
Salad Template is fully responsive, simple, clean and mobile friendly coming soon page with nice countdown timer, parallax background, subscribe form and contact form.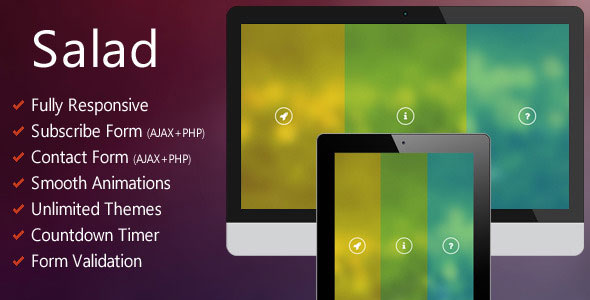 Z
"Z Pixel – Creative Portfolio Templates – Flat Design" is a great design idea for website of Photo Studio, Photographers. Website is used for display photo collections, sell image works, design resources, or use as online portfolio.The design is very elegant and modern, and also very easy to customize.7 PSD files included.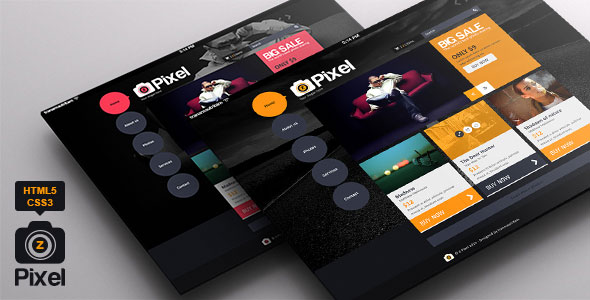 GRID
If you love flat and retina-supported design, GRID will surely amaze you at the first sight. It is the fully responsive HTML5 & CSS3 template that best used for blogging, personal portfolio, even business portal. The template layout and mechanism are enhanced to deliver all images and graphics with WOW effect. GRID works seamlessly on a wide range of devices including PCs, mobiles, laptops, etc. It has the sophisticated layout with colorful design and carefully crafted graphic (that is retina supported) helping you to attract more visitors to your website.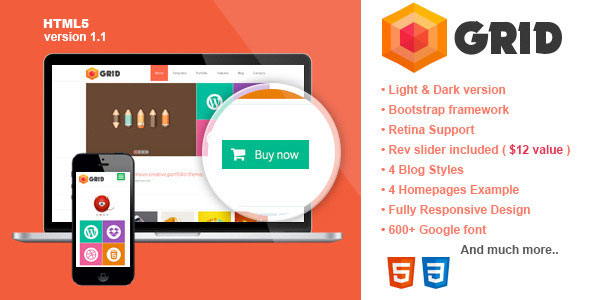 HERMOSO
Hermoso is fully responsive multipurpose Html Template. It has modern and clean design. You can use it for companies, agencies, portfolios and featuring a trendy but unique flat design.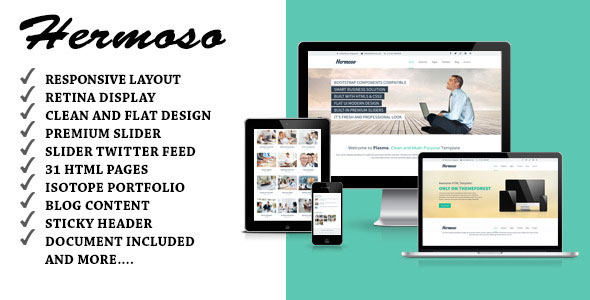 FOCUS
Focus is a fully responsive, professional and creative template built to showcase your top-notch portfolios in a sleek and modern way.It includes 2 differing layouts and multiple colour variations, that are ready to use out of the box, to accommodate the needs of businesses and personal resumes alike without compromising aesthetic appeal or technical performance. Focus is also 100% retina-ready, so you can be rest assured that your portfolio is being presented in the best possible way to all potential employers, customers and fans.We've also include 2 showcase layouts for those times when your work requires a little more than a light box to really show it off!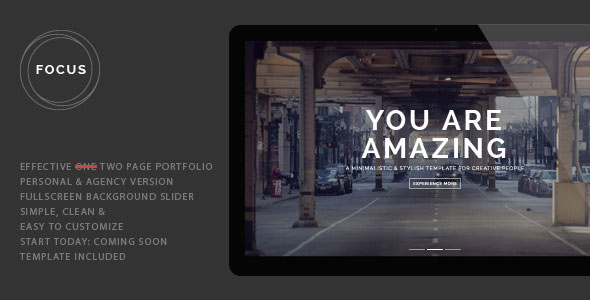 BLOGIFY
Blogify is an awesome HTML5 template which brings clean & flat design. It's ideal for personal blogging . It's very flexible and powered with Bootstrap framework.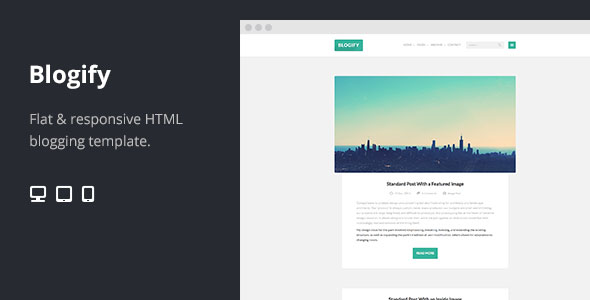 ALFIE
Alfie was developed using the very latest coding techniques, using Html5, Css3, Bootstrap.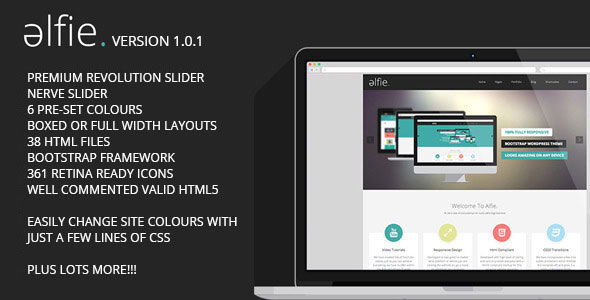 MEXIN
Mexin is a Responsive, Retina-Ready template with a minimalist, simple, elegant and clean style, a strong focus on contents and readability. It presents a modern business solution. Mexin is suitable for multipurpose websites such as business, company, portfolio or blog. It is superbly responsive adapting to any kinds of smart phones and mobile devices. Code is easy to modify and understand so you can personalize it in the easiest way.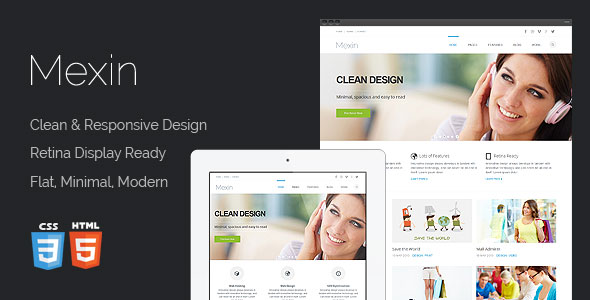 METRO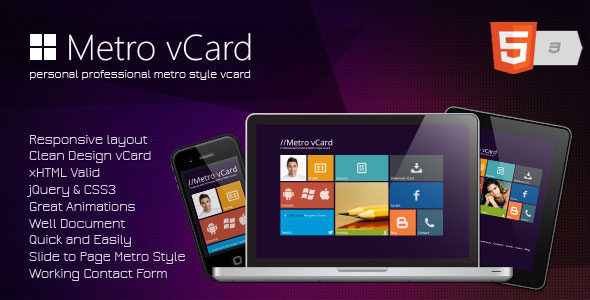 SUGANWE
Suganwe is responsive one page portfolio HTML5. It can be used for creative digital agent to show portfolio and selling services. Its build based on twitter bootstrap ,so it has powerfull features.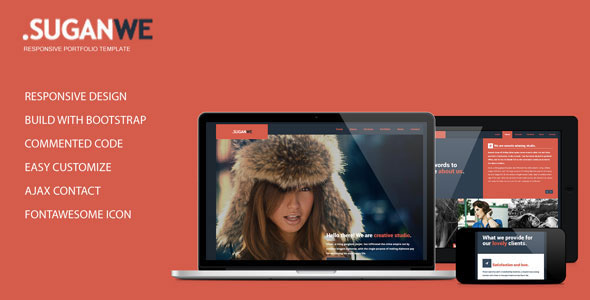 BUSINESS ESSENTIALS HTML
Are you looking for a clean, responsive, elegant and modern business website? We think we just made the perfect one for you!Business Essentials was written from the ground up with the modern business in-mind. From the elegant, clean and easy to read text, to the various fully featured page templates including staff, careers, home, and case studies your site looks gorgeous on a big screen all the way down to mobile with it's responsive design and you can even choose a boxed or full-width layout.Easily customizable with well structured, valid code and CSS – The width of the default page is set at 980px, perfect for most business who don't run extra large monitors but do use laptops as do their clients. Each part of the design has been carefully hand crafted, and pixel pushed to ensure a fantastic experience.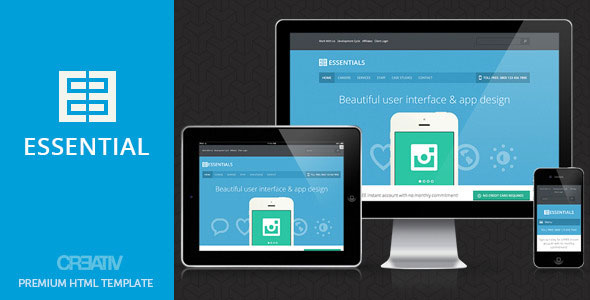 8
8 COLORS is a Simple, Minimalistic, Responsive Coming Soon and Under Conctruction Page.It is based on Bootstrap.Full list of available icons: Font AwesomeImportant! Circle countdown doesn't work on IE < 9. The normal counter is displayed on this browsers.We would be glad to help you.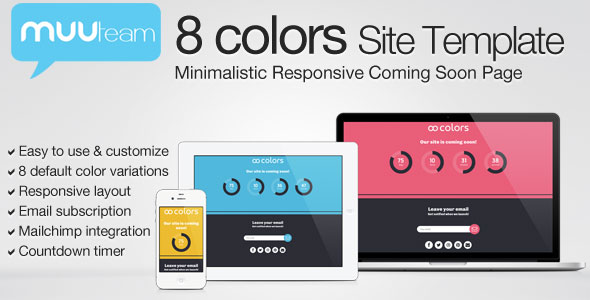 PERSONA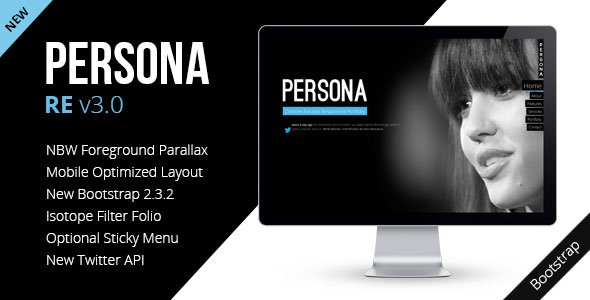 INFINE
Infine is beautifully designed Comming Soon, Landing and Conference/Camp One page HTML template. Advertise the next big thing right on your web site using colorfull countdown timer. Do you need a video presentation slide? No problem, Infine has prepared slide for it. Even for simple text slide. Infine has prepared beautiful timetable where you can inform visitors who, what, when and where speak will happen.Flat, modern and clean design.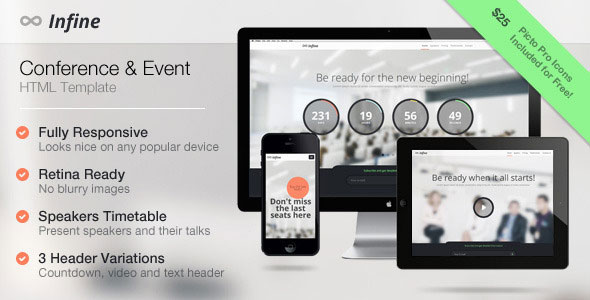 VICO
Vico V Card Template is a html template which has a unique 3-dimensional transition and transparent effects.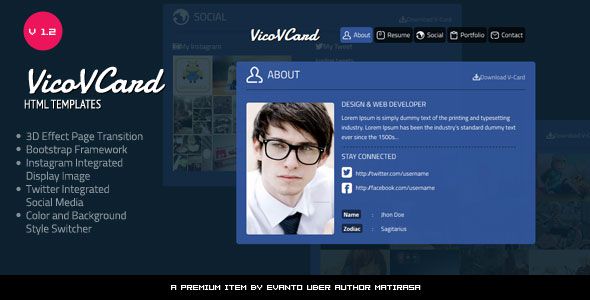 ALL
All Me is a responsive virtual business card for showing off your work. The AJAX powered portfolio allows for seamless transitions to your projects and the isotope effect neatly organizes your content all on one page.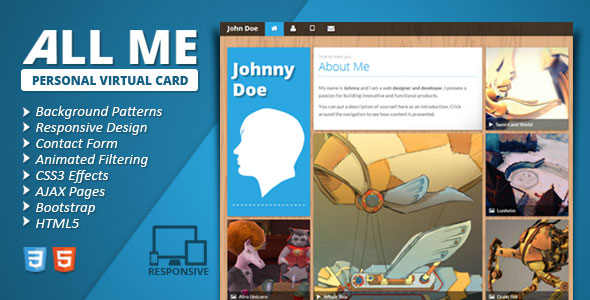 APOLLO
Apollo is a professional template for any business or portfolio website, it's animated and responsive design ready to look stunning on any device.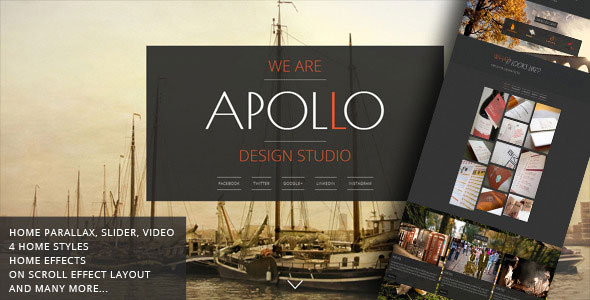 ZUM
Zum is a creative onepage template based on flat design suitable for creative agency, personal portfolio or any other purpose. Its clean & colorfull, built with bootstrap it's super easy to customize or add any element.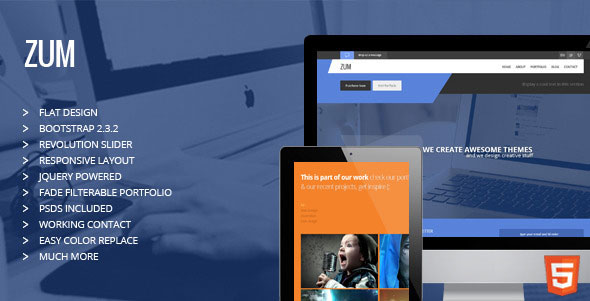 COFFEE CREAM VCARD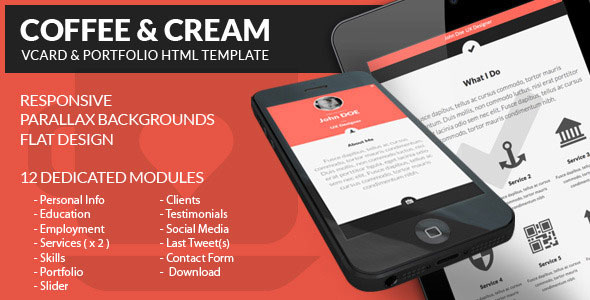 FLATPOINT
FlatPoint has a lot options which gives you opportunity to build fully customized admin template for your web application. End user/client is able to pick manually any color/styling on any element (header, main navigation, sidebar, widgets, boxes etc…) by their own choice and that makes this template perfect for your next project.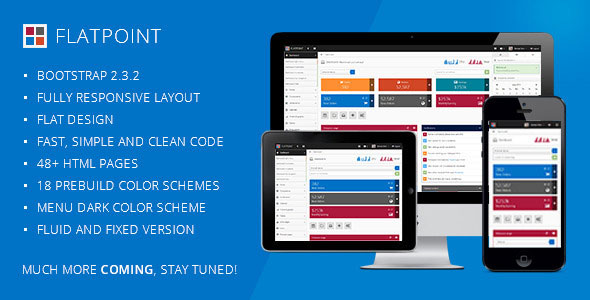 CHARITAS
Charitas – is a simple and clean but still professional template suitable for Charity, NGO, Foundations and it's created by using the latest HTML5 and CSS3 techniques. The responsive design makes it easily usable with any device (Desktop, tablet, mobile phone…), without removing any content!The design and Color scheme can be adjusted very easy. The design is 1200 grid based and 16 columns.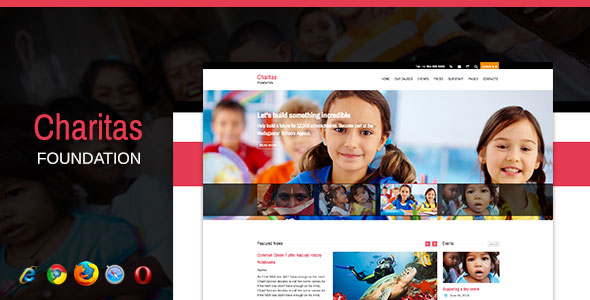 SEABIRD
Seabird is a responsive HTML5 Template built with Twitter Bootstrap. It includes 2 different layout options: Side Menu & Top Menu. Seabird features a clean and professional design which can be a great solution for your business, portfolio, personal blog or any other purpose website. The template is built to be responsive so that it will be compatible on any device such as smart phone, tablet or desktop.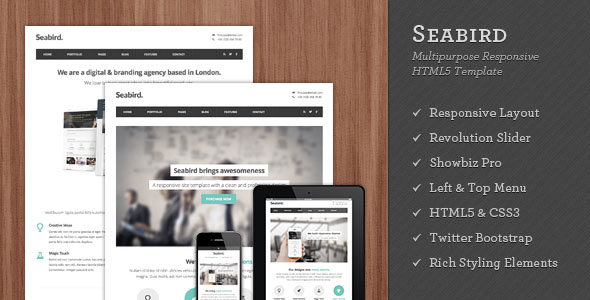 FLATIBLE SINGLE PAGE HTML5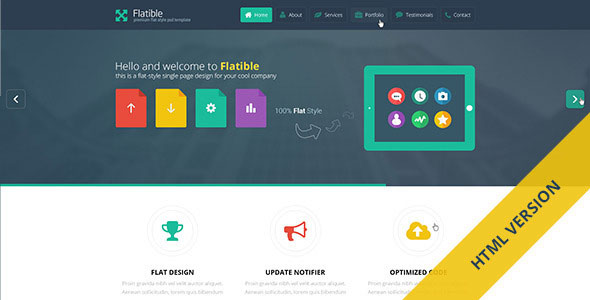 FLATCV RESUME PORTFOLIO
FlatCV is a unique multipurpose personal webiste!FlatCV perfectly suits for placing your personal information: your skills, level of your competence, your education, experience, and hobbies. The theme will handle the task, no matter what you do – whether you are a designer, programmer or manager.…It is up-to-date Premium HTML theme with modern design developed as a mobile application and user-friendly interface.The content of FlatCV is arranged in such a way that it can quickly turn from compact into the extensional one.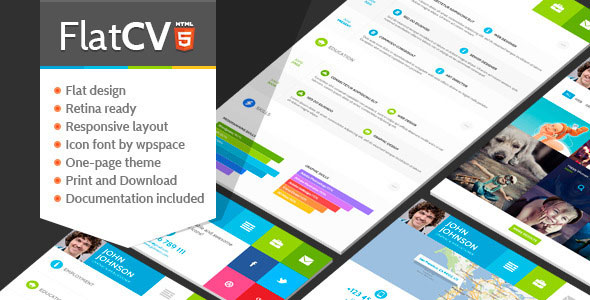 Fonte: http://bashooka.com/freebie/flat-responsive-html-website-templates/